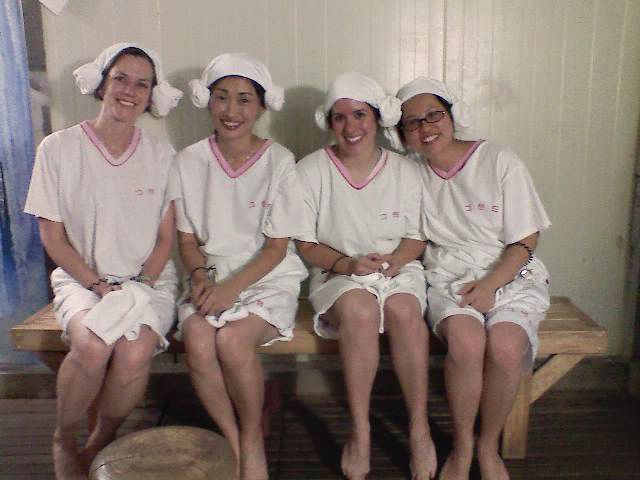 In the cleansing spirit. I thought I would start with my experience at the Korean Sauna that is literally across the street from my house. Just a walk down the hill. For $5 you can come for as long as you want and it is open 24 hours. Could really be a cheap hotel. ha.
I must caution you. There are some pretty frightening pictures of us (don't worry, not naked) and they are taken with Jihyun's phone, so not the best quality, but you'll get the picture.
So, when you walk in on the first floor, you pay, and are given a key for a locker that is right there to put your shoes in. There is someone also sitting by the door who will polish up your shoes for you while you are gone. After you put your shoes away, you take that key up to the changing room attendant who gives you another key in exchange for the one you have for a locker in the dressing room. There are of course separate dressing rooms for men and women. The attendant also gives you these fetching outfits above, two towels for bathing, and a little one that we made these cool princess leah bun head hats with. The Korean Sauna is really just like a big huge house to hang out in with your family and friends. In the dressing room there is a tv area to hang out and drinks, then an attached huge bathing/soaking/massage area. In this are a(you are naked. ha) and they have showers and the little stools with mirrors in front that you can scrub yourself down, do whatever. Then there are all kinds of different temperature soaking tubs, and Jacuzzis. Also, a little lap pool that is way too cold to go in. yikes. They have an area that for $10 you can get a serious scrub down. It looked to me more like a form of torture to be honest. I mean I hate to paint a picture in your mind, but you are laying out flat on a table while they do a deep scrub of every inch of your body. I think I would have to wear a bathing suit to protect myself. Which would get a lot of looks, and laughs from everyone else. ha.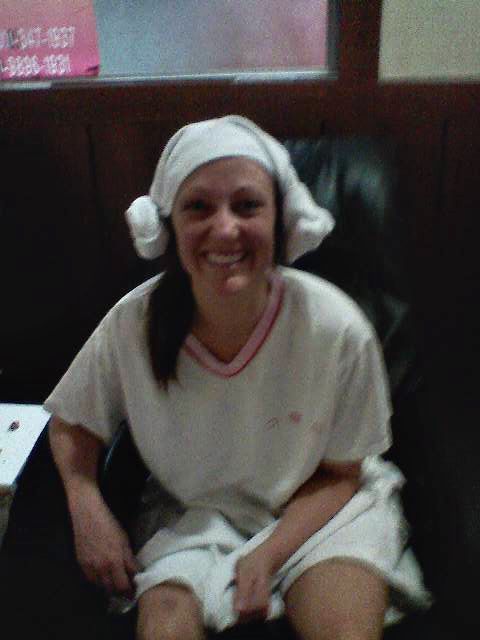 But after you get changed in your cute PE outfit you can go up to the next floor which is like a huge giant living room. There are mats all around that you can use to lay on and watch tv, read, eat. There is a kitchen where you can order hot food and get drinks and snacks. The whole family can be on this floor and hang out together. It was so funny, while we were there the big drama show that is on every night came on and everyone was gathered on their mats in front of the big tv to watch it. Also, there were some coin operated massage chairs that Tashina and I are sitting on in the picture above and below.
Off of this big room are many different rooms that have different saunas to try. They are mostly hot rooms with different types of natural minerals, woods, or whatever that I guess have different health benefits. One room is a cold room with ice on the walls, and a fan in it. There was also a room that had a couple of treadmills in it.
Here we are sitting in the sauna room that had big chunks of salt on the ground with just a big blanket to sit on. Jihyun brought these oil of olay masks that we put on. We were laughing so hard.
I am on the left here and I think that I look like the elephant man. But my face felt great afterwards.
Mostly, we just sat around and talked. Some got some baked eggs, which apparently are the big thing to get there. They bake the eggs in the shell, and then you crack them open and eat. No thanks. It was 10pm before we knew it. Everyone else changed and went home. I stayed a few more minutes and soaked in a hot tub. It would be fun to bring all my girls. I don't know if they could do the naked thing though. It takes some getting used to.
So there you have it. A korean experience in a nutshell.
This Korean Sauna was older and not super nice, but the one that I went to at the hotel we stayed at for my birthday was A-Mazing! It had shower experiences like "thunderstorm" etc. And if you know me at all, you know how important a good shower experience is. ha ha.
but there were so many showers to chose from at this hotel, I didn't even do the sauna.
So, I think that will have to be day two of the blog cleanse. The banyan tree experience.
Just thinking about that place makes me relax. Until tomorrow my friends.
PS. did anyone else notice how many times I used the word "huge" in this post. funny.