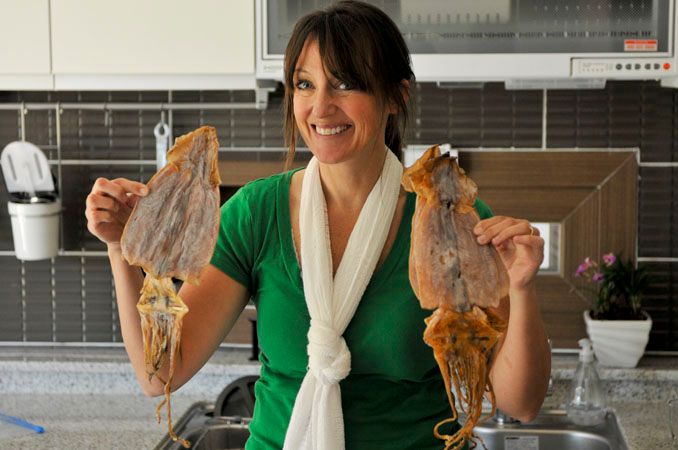 Leah was out in the yard kicking the soccer ball around and she saw our Korean neighbor. Leah greeted her in Korean, and the woman came and gave her these dried squid. Just handed a stack of them to her, not in a bag or anything. She brought them in to me. Let's just say that it is a good thing that I am not pregnant, because the scent of this kind offering would have cleaned out my stomach quick. We were all rushing, hurrying to get them in a Ziploc bag asap. I called my friend Jihyung and asked her what Koreans do with these. She said it is like beef jerky to them. AHHHHHH!! I asked her if she likes it and eats it. She replied yes. So, I passed on this kindness to her. I'll have to ask her if her husband (who grew up in the states) likes it too, and if he makes her brush her teeth before he kisses her after she eats it. What if she brought that to bed to nibble on as a snack? That could be the grounds for divorce for me. ha ha. I have started noticing the unusual smells of things that I eat, and how they would seem to me if I had never smelled it before. Like beef jerky, eggs, broccoli, turkey lunch meat etc. If I grew up here would i think..... mmmmmm cozy snack while watching pride and prejudice, when I smelled dried squid? It's a thought.
I know that when I smell dried squid someday 20 years down the road of life, I will have a sweet reminder of my time in Korean and the kindness of a neighbor, who reached out to someone who is different. Let's all try to do the same. Are you afraid to reach out to someone who is different than you? I challenge you to push yourself outside of your comfort zone and introduce yourself to a neighbor, someone at work, at church, or that you see every week at one of your kids activities, that is different than you. Perhaps in their age, culture, beliefs, or personality. Show some kindness. Start with a smile, than asked their name, reach out. It makes the world a better place, and you will be happier too. I promise.
Anyway, I plan on returning the favor. Dave suggested a slab of bacon. ha. I think I will make a plate of warm chocolate chip cookies. Jihyung agrees with me.
As promised, some words from Sister Hinkley's book
"Each of us can ask ourselves each morning."What can I do
to make life happier for someone today?'