I have to start posting about all of the amazing things we have seen and done with our wonderful church family here in korea. Every holiday we all get together and do something fun, and take in some new sights. Jihyun is determined that we love her country of south korea. She wants us to see how beautiful it is outside of the city. Jihyun, you are succeeding with all of us stationed here and may i dare say with anyone who reads my blog. South Korea is absolutely beautiful (you will see on all of my many upcoming post on our trips).
Can i just tell you how much i love my family here in korea. It is hard to describe the bond that forms when you live overseas and have both the military, and same faith in common. There is instant acceptance, friendship, and love. We become one another's family. We share every hardship, joy, adventure, holiday, birthday etc. with one another. We love one another like the closest knit family you can imagine, and i love it. Here we had only been in Korea for 10 days or something and I felt like we were all aunts, uncles and cousins. It was the most wonderful and comforting feeling. Man! (up above is like the picture of all the cousins)We are so grateful. We are so blessed. I could go on and on, but let me share the day we had with you too!
So, here is the first trip that we ever went on in korea last september for labor day. We went to King Muryeong's tomb and summer fortress in Gongju. So many of the most beautiful locations and historical sights are the tombs of past kings and their vacation homes.
Here
you can read a little more about it and see some interesting pictures of what they found inside the tombs that were from 1500 years ago, and untouched (discovered in 1970). It really is amazing, and they had the information in english for us to read about, and listen to a tour on head phones. Very cool.
Driving into the area.
A view of the fortress. See the wall going up and down the hills. It went for miles and formed a huge circle with the most beautiful grounds, and tucked away spots.
Starting out.
Looking back as we left the quaint little town.
They were filming for something on the way up.
Look how little ammon is!
and yes, you have grown bigger too jake. smile.
best buds.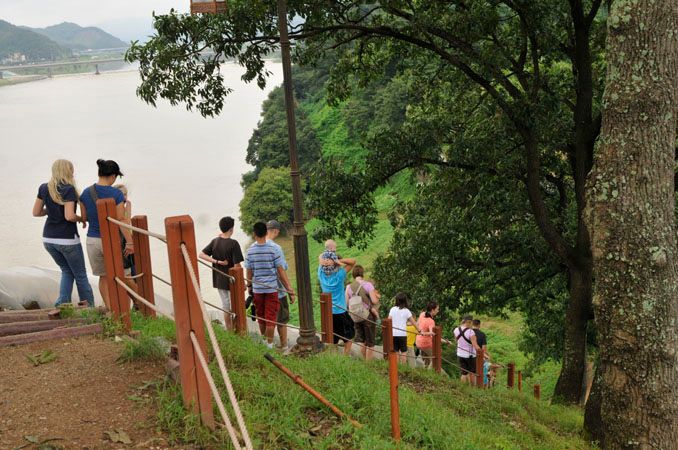 this was the first day that my girls got to know katie. it makes me cry to think that they are moving in a month. Rachel may move with them she loves katie so much. We were just down there tonight raiding her modbe bathing suit collection (she used to sell it). She just watched ammon and monitored the older kids while we were in Thailand. Their family is a part of our daily life. We will miss them so much. sniff sniff.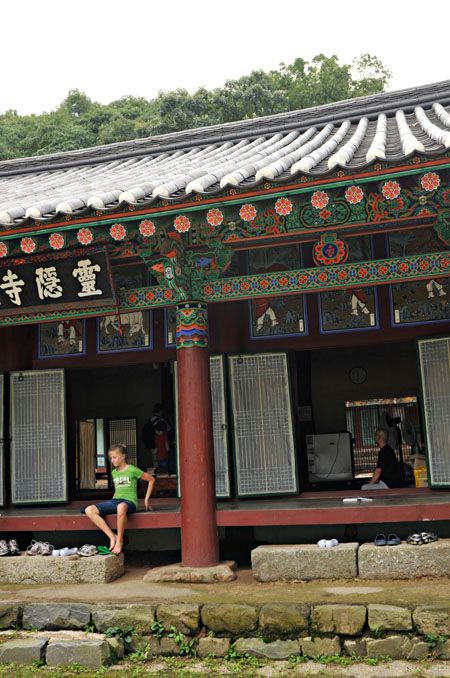 A temple. You can always go into the temples. Monks are usually inside praying that live there.
You always see this type of painting on any traditional temple.
A tranquil spot.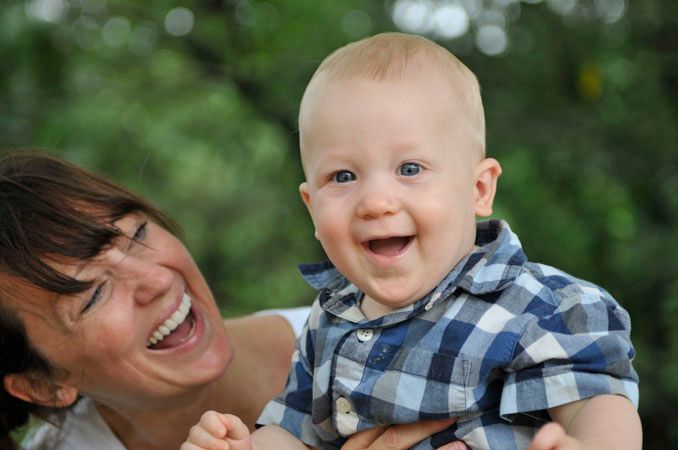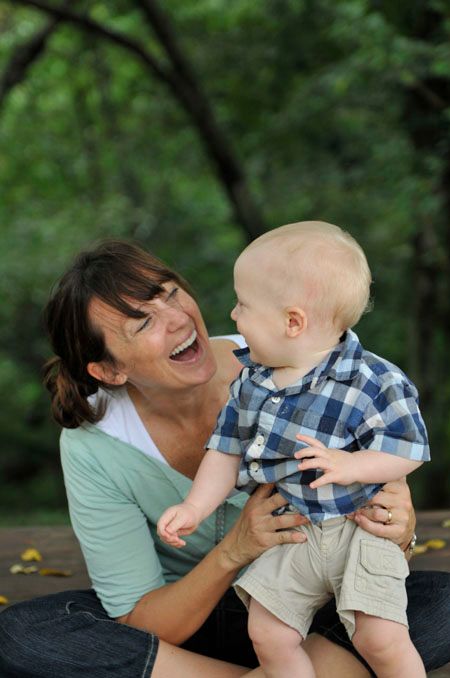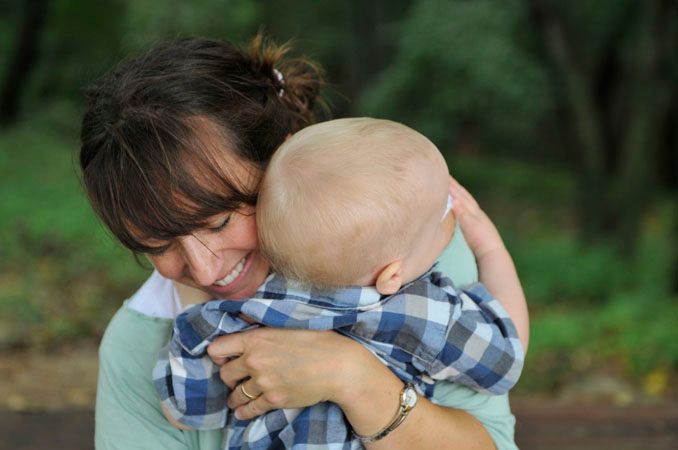 man i love this kid.
taking a short cut back. We couldn't make it all the way around with all these kids.
At least that was our excuse. smile. We were ready for lunch.
As cool and as new of a cultural experience as anything we saw that day was this fabulous meal.
The koreans love their little side dishes. With whatever you order any where you eat they always bring out like 10 other little weird dishes. (weird to us). We never know what anything is. That is until the veterans of korea tell us. We were brave and tried everything.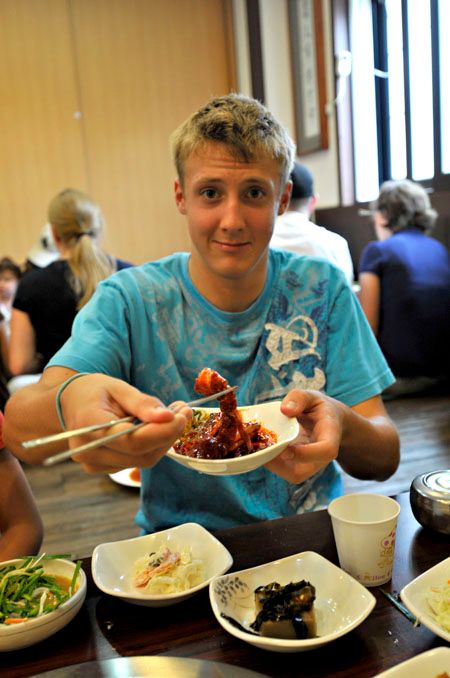 so did ammon. Thanks travis for feeding him. smile.
these shells were not decorative. They are like a little treat. You just suck out the little whatevers that are inside. Doesn't taste like much. Just something fun. Can you tell we passed them all over to one kid who ate them all. Also, the kids were all fighting over these little hard boiled eggs. You can see some of the shells above. Both grossed me out, thank you.
We had three tables full of people there. We were quite the party. It is like a family reunion all the time around here. It is so fun!
Luckily, we didn't have to clean up. smile.
We ate a ton, and it still looks like we barely touched anything.
We almost had to leave rachel. ha ha.
On to the next sight. Ammon pooped out on the way there.
One of the kids took this picture of him drooling bubbles. so funny.
On to the tomb.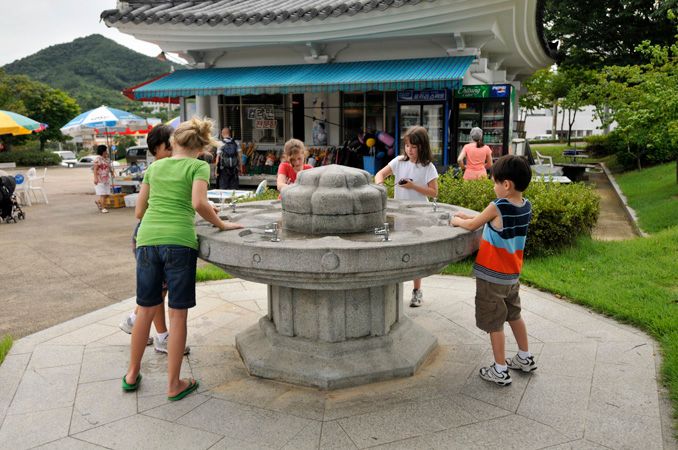 All the historical sight drinking fountains look like this.
You have to be careful. Sometimes you turn on one and it sprays all over you.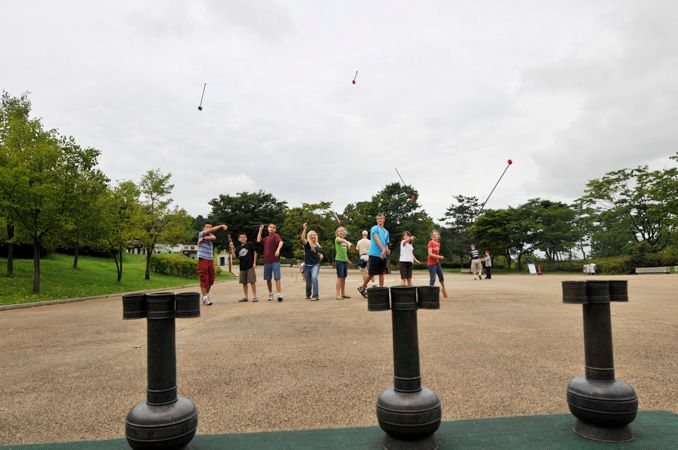 Playing some traditional korean games.
Trying to throw the spears into the small tubes there.
It was so green and beautiful.
Now that spring is here, it looks like this again everywhere.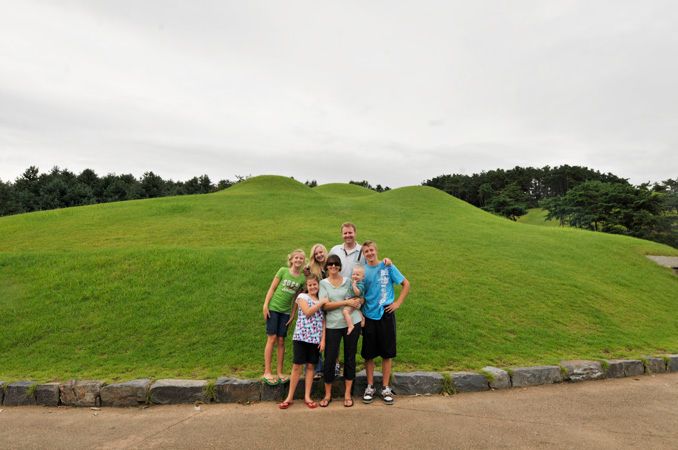 the tombs always have big mounds built up like this on top of them. The bigger the mound the more important the person.
We are missing lizzie in this picture. We are always missing someone!
Look at all my blondies! They are so cute.
the little side doors into the tomb. and no you can't go in them.
They just show in the museum what it looks like inside and what is in them.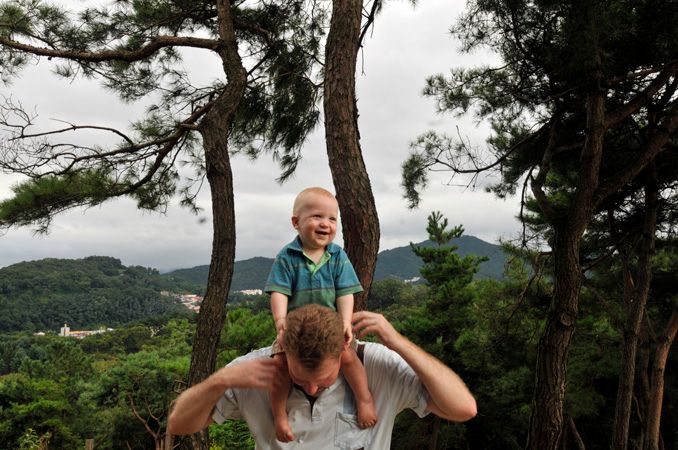 happy boy.
happy day.
Tomorrow we are off to Malipo beach with everyone. Do you think it is the korean version of malibu beach? We will see. smile.
Happy memorial day.
Enjoy your freedom that was bought and is maintained at a great price.
We have much to be thankful for.