I didn't realize just how stressed out I was until I got to Miami and completely crashed. The first night and day I spent mostly in this fabulous bed below. I was so exhausted. It was so wonderful to not have to think about anything, do anything, or make any decisions. I didn't even take my camera. All of these pictures, I either took with my phone, or my sister took them.
But why would I leave my bed with a view like this from my room. I could see the ocean while laying in my bed and with the doors wide open it was so very fabulous. The shower was even set up so that you had this view while showering. Do you see it behind the bed? How awesome is that?
Going on a walk on the boardwalk. That's my brother in law mike.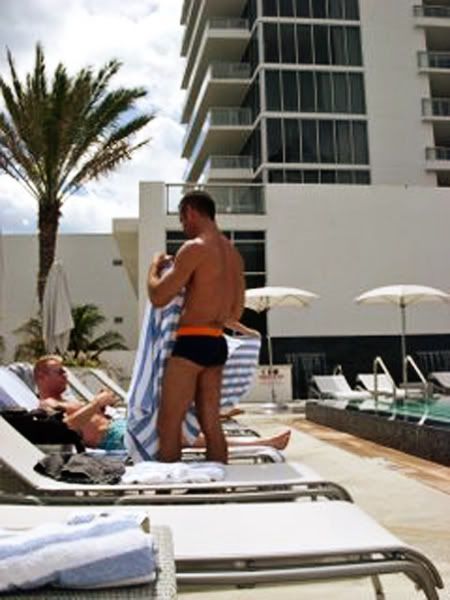 We got our best laughs just people watching. South beach is a whole other world. A wild one. And let's just say, no one is afraid to show some skin. Gloria and I were dying over these two guys above. They reminded me of two toy dogs. They primped and preened themselves non stop. They never just sat there. It was great entertainment. And the bathing suits as you can see were.....interesting. Our first day there, Gloria got in the elevator, and the only other person in there was a young guy wearing just a speedo. He said to Gloria, "I love your shoes." Yeah, it's true. I have never seen so many gay men in my life in one place. They were also filming for America's next top model in the hotel while we were there. It was walking around in an US magazine.
This guy is a look a like of my brother Kenny. We just couldn't get over it. Our best laughs were gotten trying to sneak and get these pictures without them noticing. ha.
So, there is the low down on the trip. And yes, I did gain a couple pounds, and it was very worth it.