They do if my family lives there. Front and center is my sister in law Julie. She has her own belly dancing troupe. She is amazing! She also teaches classes. This was the finale of their recital. It was very entertaining, especially the beginners classes, bless their hearts.
The picture below is of my niece Alex doing a scarf dance. She has William's syndrome, which is a chromosomal disorder like Downs syndrome. She is incredibly gifted at dance. I guess, that is what happens when you have Julie for a mom.
afterwards, we go to Kneaders. Another restaurant in Utah that I never miss going to. Get there before 10am for breakfast and you can have all you can eat french toast with their day old specialty bread with whipped cream, strawberries and a special homemade cinnamon syrup. It is so good you can't believe it!!!!
i like how they put chairs on the wall for decorations (see above right).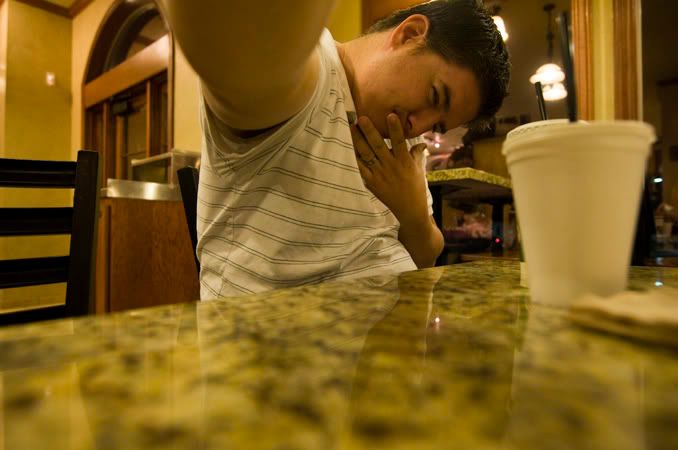 oh, and make sure you don't leave your camera sitting on the table where grant can get a hold of it, or you get pictures like thisabove. ha ha.
PS things have been a little crazy around here, we bought a new house that was in foreclosure, but needs a lot of work, I started teaching seminary this week. Tuesday, I picked up my grandma from the airport to stay with us for 3 weeks. She is one of my favorite people on earth, and we are trying to get her to live with us permanently. Wednesday morning I took a pregnancy test and it was positive, wed. afternoon I entered the hospital, in total pain ,that came on very suddenly. I spent three days there passing a kidney stone. Yes, it was worse than child birth. But with child birth, you can't have all the morphine you want! SMILE! That is why I didn't call you on your birthday kenny! sorry. I just got home last night and I'm trying to regroup and recover. It's been a crazy week I'd say.