So if we can't go on a trip, there is no reason why i can't bring the vacation to us. You all know that breakfast at a resort ranks high on my list of necessary indulgences. i do love it so. So when Dave said last night that i need to clean the table because there were dried up milk spots that looked like the Hawaiian islands, i knew i needed to do something quick (ha ha). Dave is even worse than me (and I always get blamed. rude). In fact he is so desperate to get out of debt faster he is selling his jeep! Which we are able to do now that we are moving on base next week and won't need two cars anymore. Desperate times around here. ha ha (i know we are ridiculous). So who can miss vacation with a breakfast at home like this? A combo of white and wheat pancakes, sliced bananas, toasted coconut, macadamia nuts, whipped cream, and syrup. With sides of eggs and sausage, milk and juice. All you can eat even!!! I ate too much, just like on vacation, but poor Dave couldn't eat much. He had surgery on his shoulder Thursday and is super nauseous from all the pain killers.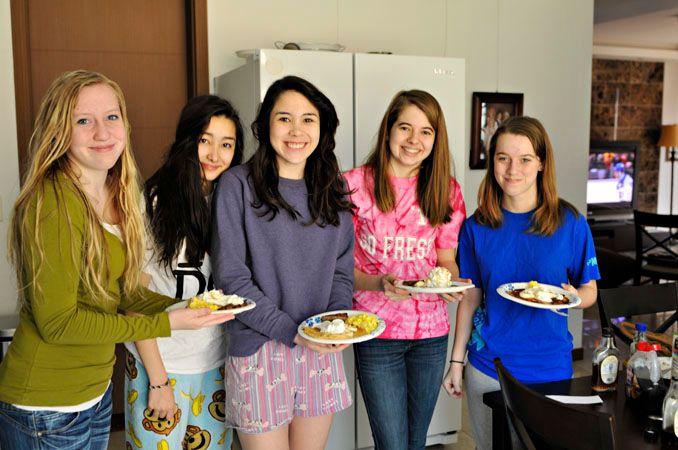 Everyone else enjoyed it though. I had a houseful (as always). Rachel had friends over to spend the night and I have been such a good mom cooking for them. I made a big spaghetti dinner last night, bought them tons of snacks for watching a movie after and then Oreo shakes to tide them over while they played games and talked til the wee hours of the morning. They then all got dressed and were off to the trampolines (this place in a basement of a bldg. in our neighborhood that just has square trampolines lined up that you can jump on for a dollar a 1/2 hour). It is totally not up to any sort of U.S. safety standards. There actually is a pipe that runs across the ceiling that just has a piece of paper taped to it that says watch your head. I love it. I love that we can still have cheap things like this because they don't have to worry about anyone suing. It has little video games on the floor and 2 slushie drink machines. It is hysterical. Anyway, when Rachel was leaving she gave me a big hug and said you are being so nice this weekend, are you taking your oils? ha ha. Yes, I am. But really i just wanted to do something really nice for Rachel because she is such a huge help to our family. She has been so amazing lately. When I lose patience with someone, for example helping Lizzie with piano. She will sit down with her and calmly and sweetly help her. She has been really working on that and does it more and more because I praise her so much for it. She is such an amazing girl. I am blessed to have her.
(Rachel is on the far left in the picture above if you didn't know).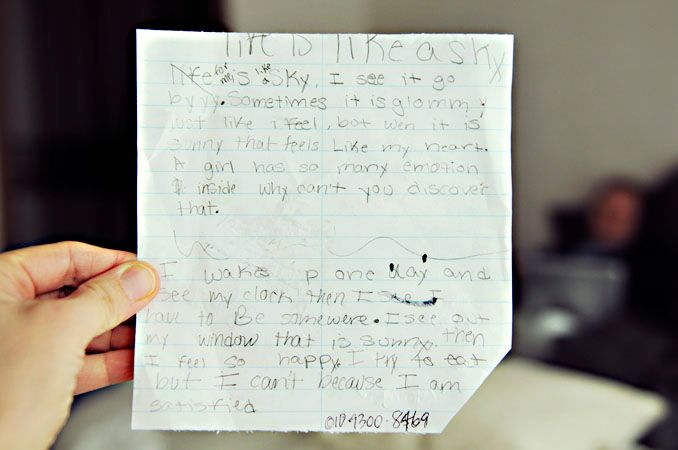 As promised, a couple of Leah's poems I found on a piece of scrap paper we had been writing random notes on. The title of the first one is "Life is like a sky." Nicole, I can see you laughing out loud so hard at that last line......"A girl has so many emotions inside. Why can't you discover that? Leah is truly coming into her own this year. When we first got here she was driving us crazy!!! But for school this year she has gotten an amazing teacher that has really boosted her confidence. He says she should be a lawyer. Also, all of her sisters have been working with her to get her ready for middle school next year. She is in the middle of a transformation from a caterpillar into a butterfly. I think I will not tell more (it is so tempting) but it deserves its own post. It's a good story. So more on that later. Oh, and Nicole, Leah has already written a poem for your family. It is awesome, and Lizzie has asked for me to print up a photo of your family to start sketching. I can't wait to see it.
Now about that clean mantle. Who knew it would spark such interest. To be perfectly honest, my house was immaculate because I had a book club at my home the night before. So Irene (my cleaning assistant. smile) and myself cleaned all day. Hence a perfectly shined mantle. It is a thing of beauty isn't it? It actually gets really dusty fast here. It's pretty annoying.
I have to tell you about my book club though. I was so proud. We read "Homeless Bird" by Gloria Whelan. It is about a young Indian girl and her arranged marriage and her life. It is a great little read. I enjoyed it. I tried to go with the theme of the book for the night. In the book her favorite cake was a coconut cake, so I made that for dessert (recipe on simpleindianrecipes.com). I didn't love it (others did), but the texture was amazing. I was so proud of myself for making a homemade cake. smile. I got Indian books from the library and had them set all over the room. I had Indian music playing (thank you Dave). The smell of sandalwood in the diffuser because in the book she said that she loved the smell. She worked with yellow flowers in the book, but I couldn't find the kind she used. But I thought these freesias were more beautiful anyway. (And thanks to those of you who commented and told me what kind of flower they are. I love them. You should see what I have now. I don't know what they are either. I will take a picture and post them). I was only missing fabric, to drape, or an embroidered sari which she loved to do. Anyway, I recommend the book.
We're going to my favorite Indian restaurant tonight. I will definitely take my camera.