Prepare yourself, I have no self control when it comes to posting my photo sessions. I just can't put a few. I just get so emotionally attached I think. I don't put all of them on, so that's something isn't it? Anyway, here we go. Like I said, one of the most beautiful families I know (both inside and out. smile.) Let's start first with this little sweetheart. She has been (before baby Taft) the youngest of four girls. You can imagine how she is mothered! I love love this picture because it just shows it so perfectly, down to her sister holding her chin so she will look (correctly) at the camera. Look at them all gathered around her making sure she is posing for me just right. There is another picture below that I had to put in because she in turn, does the chin cupping to her older sister. So perfect. She is in my nursery class at church and she loves to mother the other kids. Always trying to help them. Unfortunately, two year olds aren't always so appreciative of help from other two year olds. ha ha.
The only girl in the family with brown eyes. Isn't her coloring beautiful?
Really, can you believe the eyes on these girls. I am always telling Jenn that she is soooooo in trouble when they are all teenagers. Good luck with that. yikes.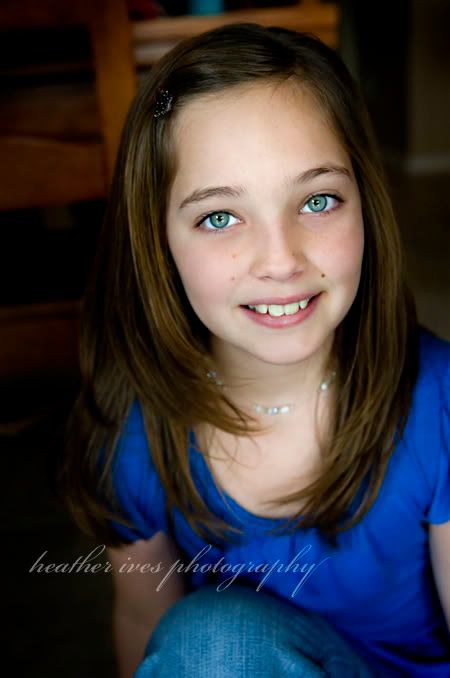 Here it is the chin cup. Perfect.
Really, this was a newborn photo shoot, but the baby was nursing, and of course I needed to capture these four girls with their dad hanging out. Jared wasn't very excited about it, but I made him, as we women so often do. Reminds me of my fours girls all over their dad, wanting his love and affection. Jared, like Dave, isn't quite sure what he's gotten himself into. Wait until you see how much affection they need as teenagers Jared! It's only just begun. smile. But seriously, a girl's self esteem, and feelings of self worth are so very much formed by how her Dad feels about her. And like my 13 year old daughter so wisely asks Dave (when he isn't as enthusiastic as her about her need to snuggle him), "Do you want me to go and find a teenage boy to do this to?" I am pretty sure you can guess his reply.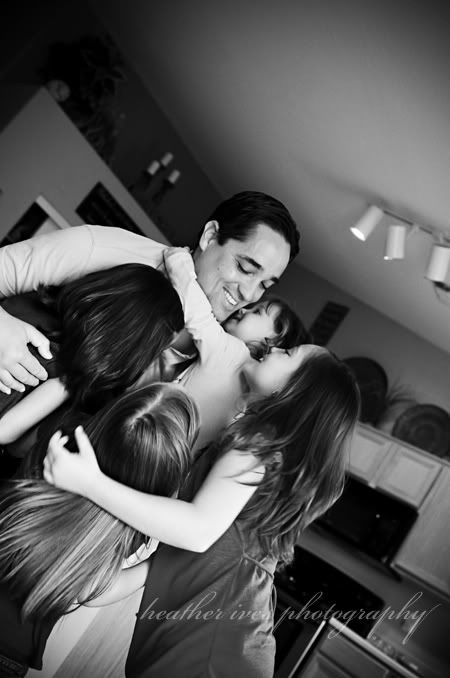 Jaylen waited patiently a long time for her turn to get a kiss from Dad. Look at the pictures before. So sweet!
Taft is finally milk drunk, and ready to be photographed. Daddy's first little boy! Will it be his last? smile.
I adore this one above.
I was so loving this color processing.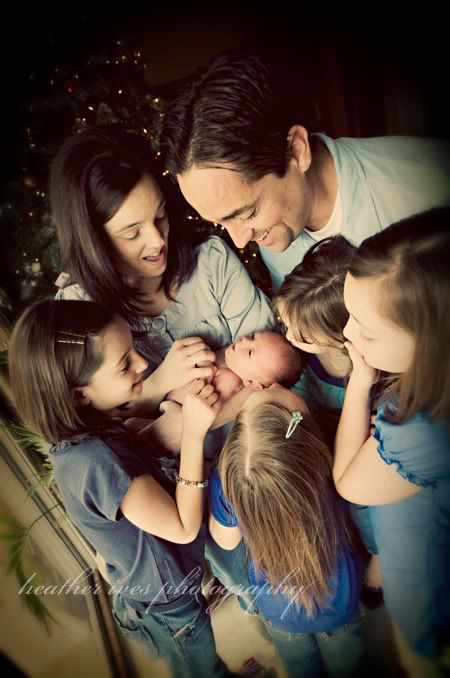 Taft will have lots of helping hands his whole life. His wife is in for one mothered boy.
These two images to me tell a very wonderful story. Mom busy with the new baby, and what's a little tired girl to do but grab her special blankie and find a spot where she fits. These are always my favorite images in a photo shoot. When I am able to catch and document a real life moment. As a mother, images like these are better than any possession. They are priceless.