So, I did it! I accomplished one of my goals from 2008! Wanna see?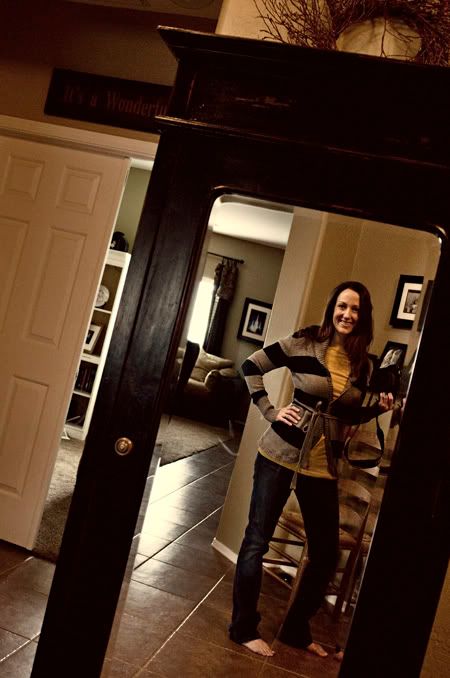 I have lost 17lbs!!!!!
Want to know how I did it? Of course you do. What woman doesn't want to hear of another possible way that they could lose weight? ha. OK.....drum roll please................
MEDIWEIGHTLOSS! I love this place! They aren't all over the country yet. It started in Florida, and I know they have them in So. California (of course) and mesa, and one in salt lake city. What? are these all the most vain places in the country? ha ha. So here's the low down. You are basically meeting with a doctor each week. Your initial appt. you have an EKG, blood work done, meet with the doctor and discuss how you are going to do the program. The way I did it (and most do) is you take an appetite suppressant, go in twice a week to get a concentrated B12 shot (it has other supplements in it too) and once a week you are weighed and meet with the doctor. They are focused on your fat loss. When they weigh you they tell you how much water, muscle, fat etc. that you are made up of. The goal is to get your body in Kitosis (or just burning fat). You do this by eating only lean protein the first week, exercising, taking vitamin supplements, and eating only 500 calories a day. OK, so everyone freaks out when they hear that you are only taking 500 calories a day, but it was easy. With the appetite suppressants, it is easy. I felt better than I ever had in my life. My sister told me, "that's because you are taking speed!" She's just jealous. ha ha. You can lose 10 lbs or more in your first week. Of course I didn't because I cheat. In fact I cheated the whole time, but not in the way you are thinking. I didn't binge or anything. I just ate more carbs than they recommend. I wanted to just eat more normal but less. So, it took me longer than it could have, but I am OK with that. My friend who just started lost 12 lbs her first week! Isn't that awesome?! I also did it over the holidays so of course I took a couple of weeks off, and did sample goodies, but still way less than I would normally eat. I felt so good the whole time I was doing the program and of course now,I am feeling so so good! I can't believe how good just having that fat off your body feels. Exercising is so much more enjoyable even. It is easier to do everything. They have at the mediweightloss clinic those huge chunks of simulated fat. I wanted to take a picture of me holding one. They are so gross, and were very motivating to me when I saw them. They have one that is what 5lbs. of fat looks like. Just thinking of that on me made me want it gone immediately and not eat anything that would make that in my body again. So sick!
My actual goal at the clinic was to lose 20lbs. So, really I have a few more to go. Why 20 you ask? Well, I asked Dave a few years ago if he would take me to Tahiti if I lost 20lbs. He said yes. So guess who has been spending alot of time researching Tahiti trips? smile. Tahiti ,for some reason, is the place I have always said I want to go since fifth grade. We were going to go on our 10th anniversary, and didn't. We always put it off longer because it is so dang expensive. So after researching it again I decided that it is still too expensive. Sheesh, for that amount of money I would rather pay off my car. Seriously. Because, we could do it cheaply, but that isn't the way that I want to do it if I go. If I finally go to the place of my dreams it will be done like this.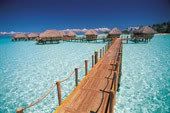 an over water bungalow at the four seasons resort in bora bora.ah paradise.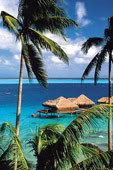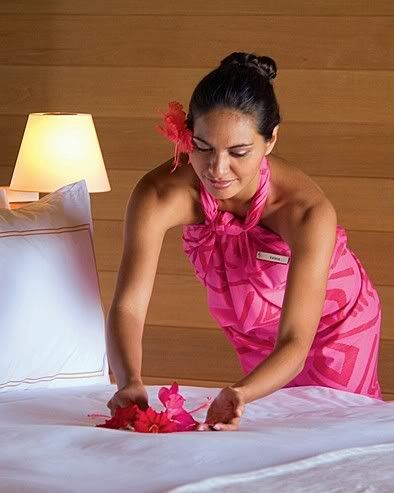 My bed prepared like so.
My breakfast brought to me every morning.
and enjoyed on my private terrace.
Maybe afterwards, I will take a luxurious bath.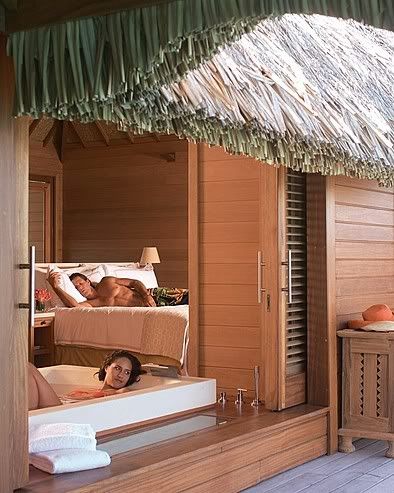 Dave, will take a nap. He will need it after working in the gym for hours everyday to get a chest that looks like that. ha ha.
Next, I will go to the spa for a little relaxation. (since it will be so stressful having breakfast and taking a bath. smile)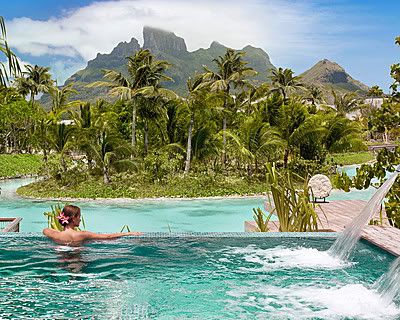 So, maybe I will do this for my 40th birthday. Actually, I think I would do a cruise so I could see all the islands and than just do one or two nights at this resort. Yes, I think that sounds perfect.
We decided with our friends Roger and Teresa to celebrate each of our 4oth birthdays together doing some amazing trip. One of us conveniently turns 40 each year, for four consecutive years. Last year for Dave's we went on an eastern carribean cruise. Teresa's is this October and we are going to do a Meditteranean cruise, but mostly Italy. Mine is in 2010, and I am thinking that this is it! So start saving Hardings!!! Roger's was first and they just came to our house and relaxed and partied with us. It was then that we decided to do all of our 40th birthdays together. I think Roger got a little jipped, so maybe 2011 he will get to choose again. It's only fair.
My other goal for 2008 that was more important was to improve my marriage. To read scriptures, pray, and read a marriage book every day with Dave. I am happy to report that our marriage has blossomed in a most beautiful way this year. It is so amazing to me how a relationship can change and be more beautiful with time. The world paints marriage as getting dull and boring as the years go by. That is a lie. If you work at it, and develop it, and are willing to be unselfish and humble it is quite miraculous. The feelings that I have for dave, the love, the comfort, are more exciting than any new romance. Even if it were Edward. You are way way better than Edward dave! ha. That doesn't mean I am going to stop watching the movie over and over though. ha ha.
Now, on to 2009! I think it will be fine! I'm such a poet (and you didn't know it). Now, at least you know I am a total dork!