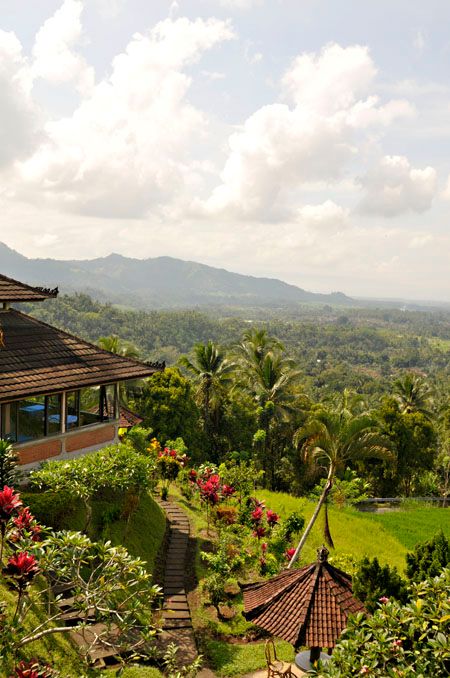 Bali
came as a surprise to me. I really didn't know anything about it except it
has a beach. smile. I can't believe how much I came to love it!
I guarantee by the end of this post you will have Bali on your dream vacation list.
So this first picture above is from the morning after we arrived. We went up into the
mountains to go rafting on the Telega Waja River. Look how green and lush!
Of course, it had the humidity to go with it, which I don't enjoy. But we went at the
beginning of their rainy season. It makes for fewer people, and cheaper accomodations,
but unfortunately also humidity. No problem with oceans, pools, rivers, and AC
one can survive. ha.
When we made a pit stop to take that picture above, there was a man selling his wares. If you can believe it, this is carved from a coconut. One of the coolest things about Bali are their wood and stone carvings. So incredibly intricate, and beautiful.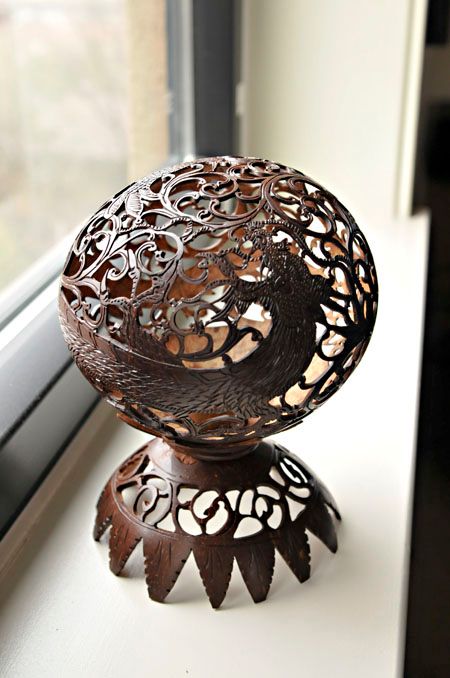 You put a tea light in this. This was the only thing I brought back from Bali. We didn't really shop, which let me tell you there is much shopping to be had. But that wasn't the goal of our trip. More on that later.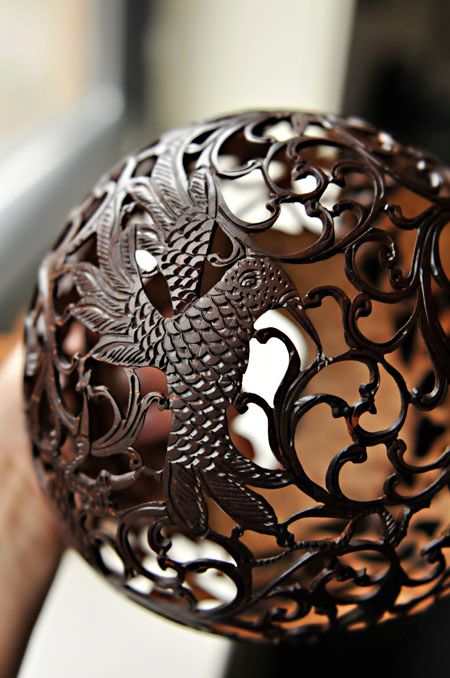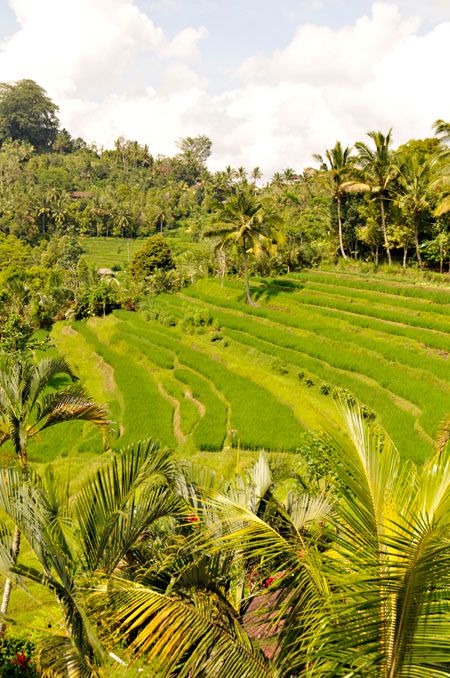 Bali is know for their beautiful rice fields. They are very picturesque and
all over the country.
But beautiful green lush countrysides aren't the first thing that you see when you come to Bali, as I will explain below. Also, FYI, most of my pictures are taken as we were driving. So they aren't great pictures, but you will get the idea. You see, that first day, Dave got food poisoning. I thought we would get back out to the country and drive around and stop in villages etc. and I could really get some great pictures. But poor Dave just wasn't up to much driving. And you would understand why if you saw what driving there entails. It is quite crazy to say the least. No one could believe that we rented a car and were driving ourselves. It was quite scary at times, but we like scary and crazy. It was part of the adventure, just a tad stressful sometimes.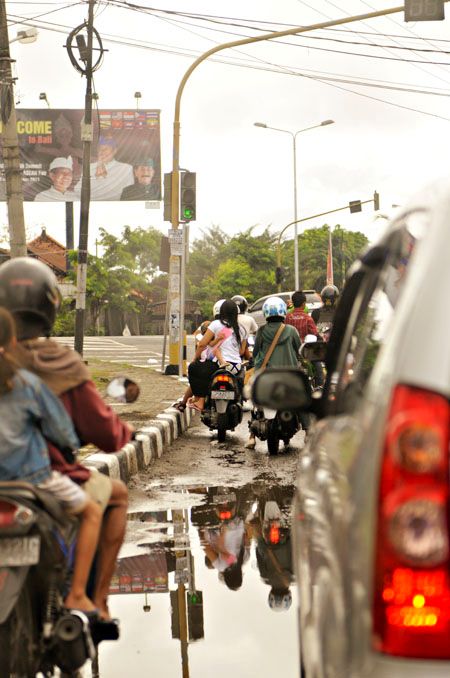 You see the traffic is unbelieveable. There are way more cars and mopeds than there is room for. Most streets are bumpy and narrow, and anything goes. You just honk and pass. Lanes are suggestions. What makes it scary is the thousands of scooters surrounding you at all time, and they will have three little kids without helmets etc. Let's just say that when we returned our car when we left, our first words out where, "We're alive!"
Nicer tourist areas they block off with security stations and have nice roads and amazing landscape, but that is unusual. What is cool are these gates that they have marking a new area like the one above. This kind of architecture is everywhere.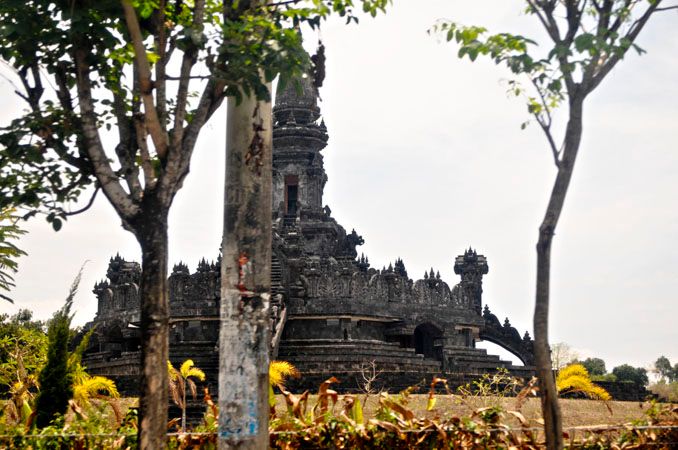 Again, just driving by, hence the pole in the way, but look at this thing. I dont' even know what it is. Buildings like this is are just casually along the road. There are temples everywhere. Every street, every neighborhood, and every home. Bali is predominately Hindu, although most of Indonesia is Muslim.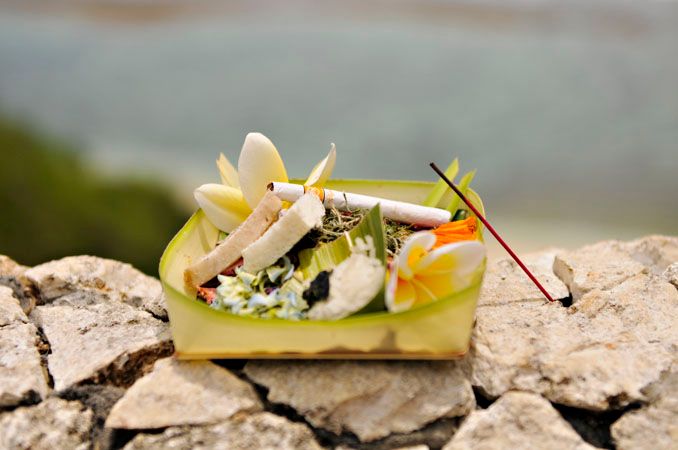 Everywhere you go there are offerings like this one above. They place them outside of their homes, business, on their cars, at busy roads, absolutely everywhere. As we drove in the morning you could see everyone outside placing their offerings out and they do it multiple times a day. They put food, money, cigarettes etc.
I think the offerings are the only thing that keeps all the countries stray dogs alive.
Another thing that is everywhere.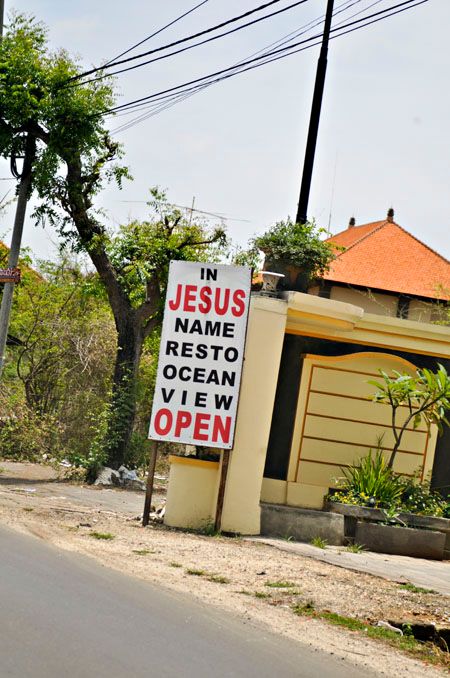 There is Christianity there also, and they do enjoy freedom of worship. But they get the benefit of cheap gas because they are in a predominately muslim area. ha ha. They learn Indonesian, Balinese, and English in school. So, supposedly everyone speaks and understands English, but as you can see above....not always spoken or written very well. Speaking english well here is one of the keys to success in such a large tourist drawn area.
Everything is wrapped up in their checkered skirts. I don't know the significance of the pattern, but it is to cover their knees. So even the horse at the gas stationed was covered. too funny.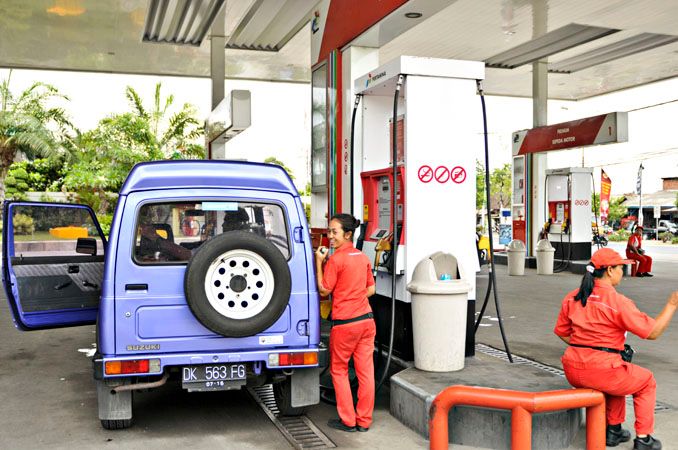 Speaking of gas stations..... they are run by women, and they pump your gas, and wave at you frantically to come to their pump. They must get some sort of commission. I've never seen anyone that excited to pump gas. It is how the checkers at the commissary are here in korea. ha.
Bali is a unique combination of new and old. They are always right next to each other. You will have a brand new incredible western store, right next to a fruit stand, old temples etc. It is odd. Poverty is mixed in with wealth everywhere. I would like to know more about that. What are the feelings amongst the people about that. But from what I saw they are a happy and content people. Everyone is open, friendly, and very affectionate with one another. There is a
gentleness about them. They aren't in a rush, but calmly go about their business. Not lazy and slow, just calm. They are not pretentious. I never saw anyone put on airs. They are a humble and content people. My first impression may not be accurate, because I am a tourist. But it is what I observed even when I wasn't interacting with them.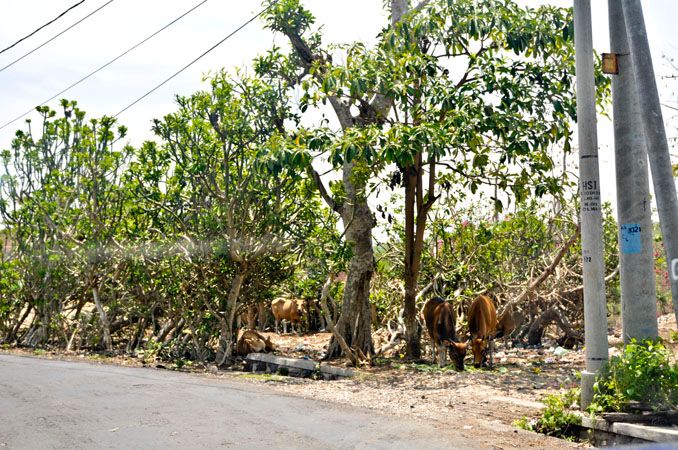 You would see people's animals beside the road like this as well. Sometimes
in the city on a vacant lot next to a store etc. funny.
I loved seeing all the school children on foot and moped in the morning. I really wish I had a picture of the kids up in the mountain villages. I wish I had more pictures of the people's faces. Of their smiles. They have beautiful smiles.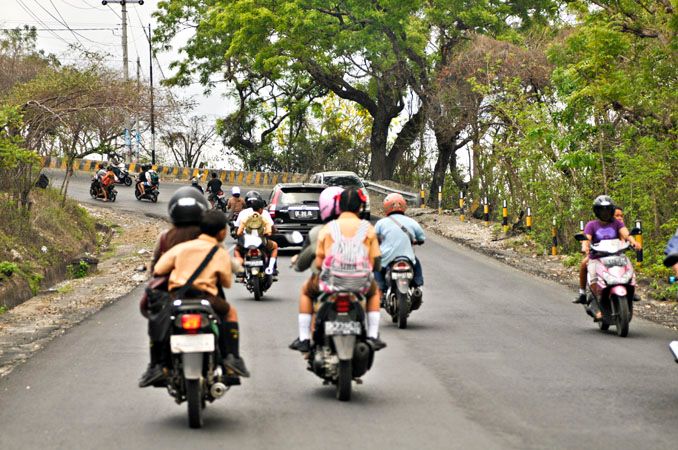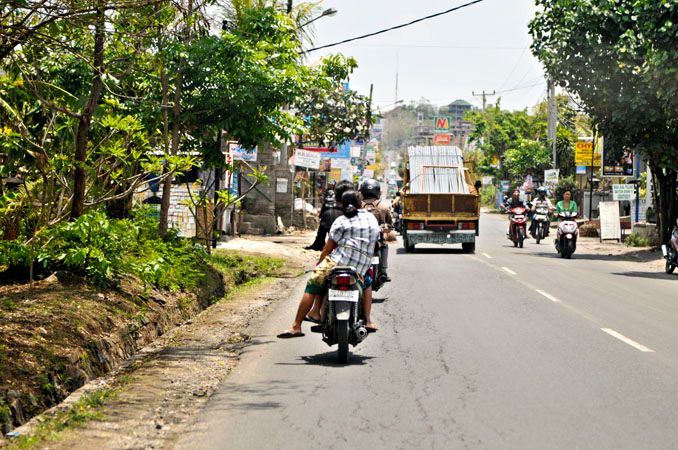 side saddle moped riding. yikes.
There are fruit and food stands like this along the roads. You would always see people bbqing satay along the side of the road as well. Warning. Do not eat street food, or drink the water.
Here is an example of how crazy the driving can be. This is a two lane road and imagine it also with scooters dodging in either direction as well. And this is a wide street. Add to that that you drive on the opposite side of the road and side of the car. We had a stick shift as well.
Dave has the nerve, but the patience is sometimes wanting. ha ha.
I know his mother would shudder to think of him driving as crazy and fast as the locals.
I know I did, but he didn't really appreciate my comments to that effect. ha ha.
I guess it takes nerve to be Dave's wife as well. smile.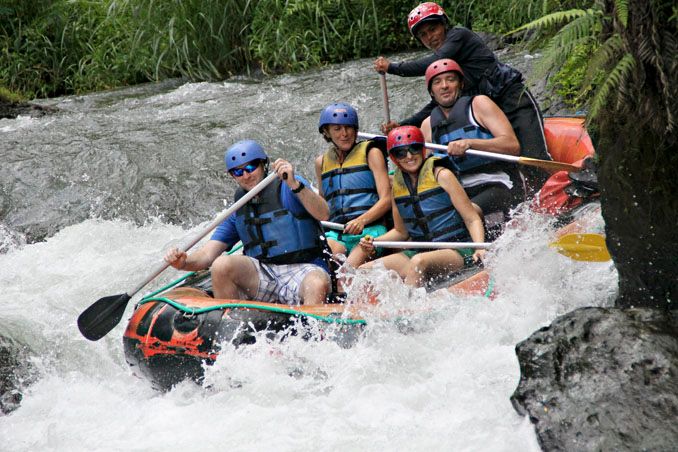 But this satisfied his drive for the adventurous for a little while. Back to rafting that first day. If you ever go to Bali this is a must! Rafting through the jungle, and through waterfalls. It was so amazing, I can't tell you!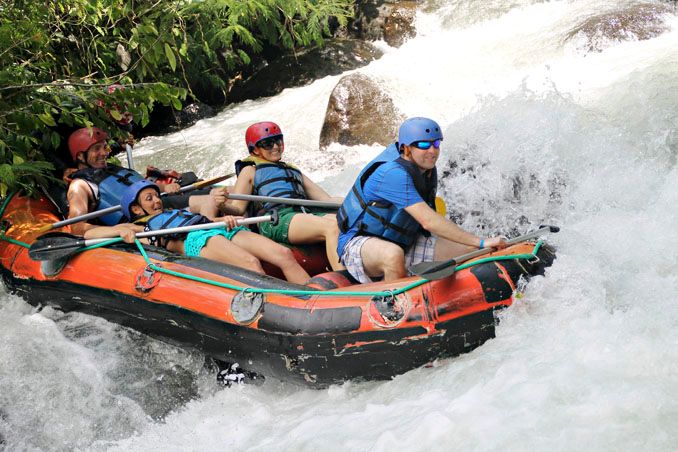 Under a waterfall. I wish the photographer took one from further back so you could see the whole scene, not just us. Again amazing.
(Roger and Teresa it was definitely just as awesome as canyoning in Dominica).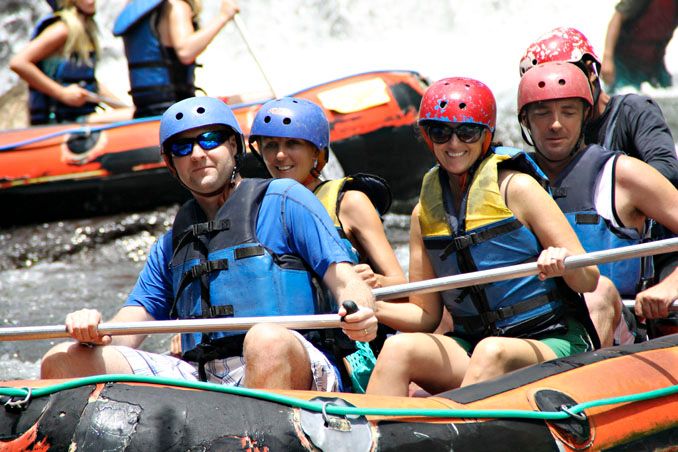 We were in a raft with a really fun couple from Australia. Most of the tourists in Bali are
from Australia. It is a cheap flight and "holiday" as they call it for them. There were also Europeans, but not Americans that I ever saw.
the waterfall we went over. here we go. ahhhhhhhhhhhh!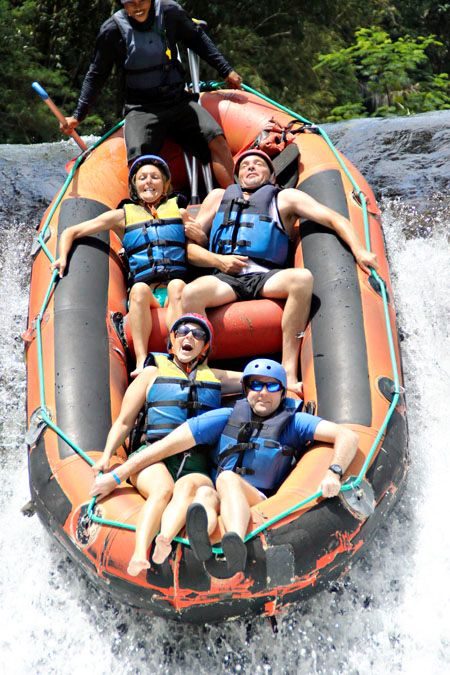 ....ahhhhhhhh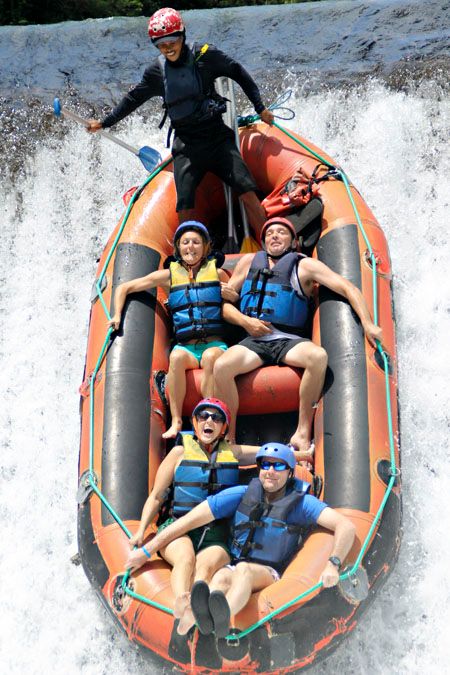 ...ahhhhhhh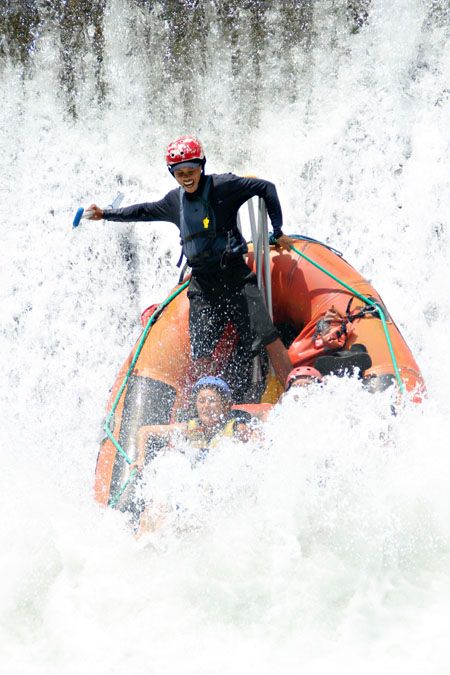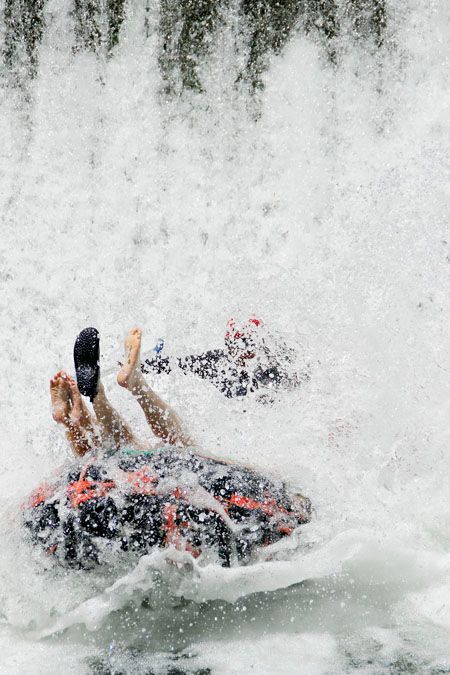 only one shoe survived the fall. ha.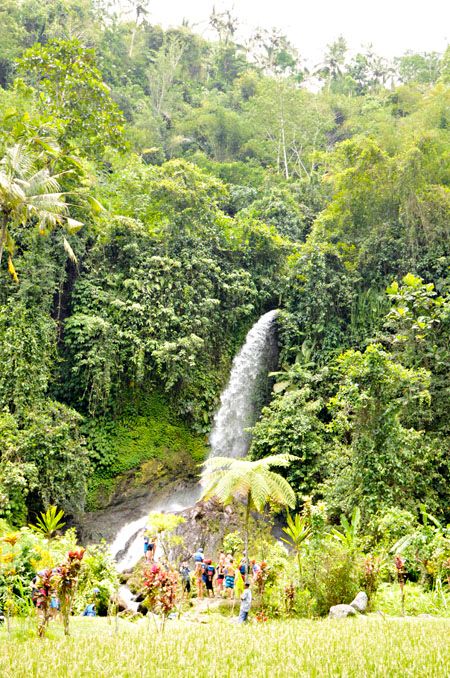 a pit stop half way through the ride.
doesn't this look like land of the lost? See the little boat down there?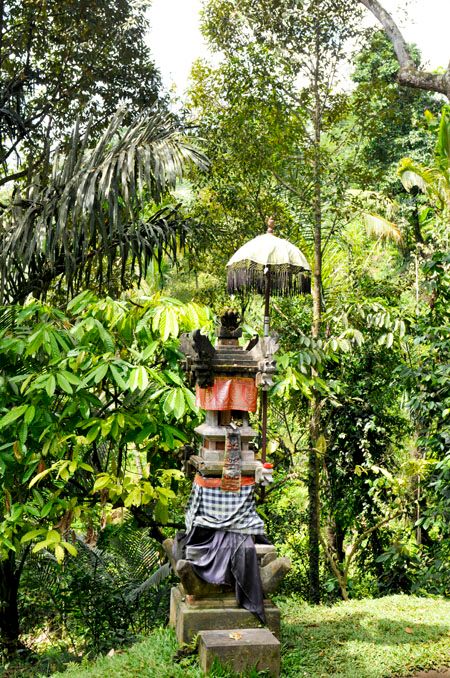 When we were done we had to hike back up the cliff, and there was a bathroom,
showers, and a hot lunch. I told Dave not to eat that soup that looked like
diarrhea. ha. It was either that or his ceaser salad that kept him up
all that night and laying low the rest of our trip, poor guy.
Of course there was a shrine next to the restaurant. With the usual
umbrella, skirt and offerings by it.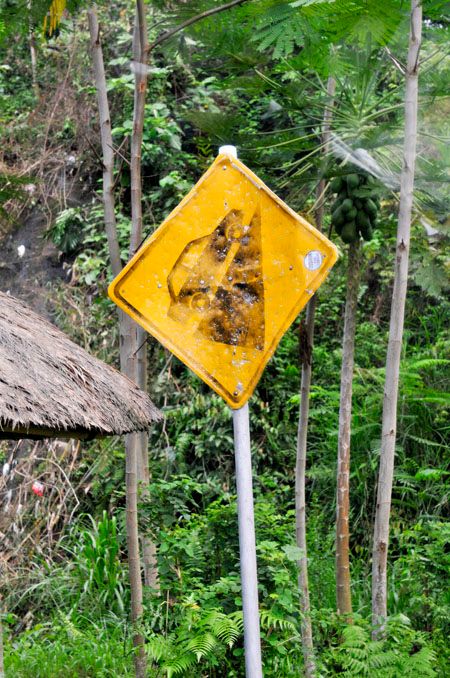 On our ride back to the hotel we saw this road sign.
A bit concerning. The hill wasn't quite this bad. smile.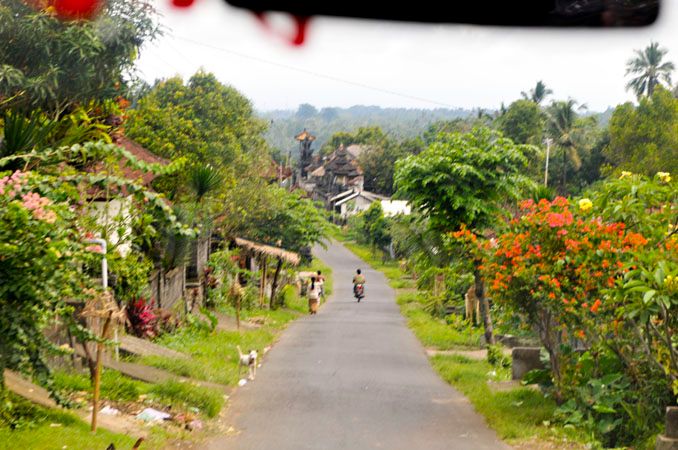 I loved all the little mountain villages.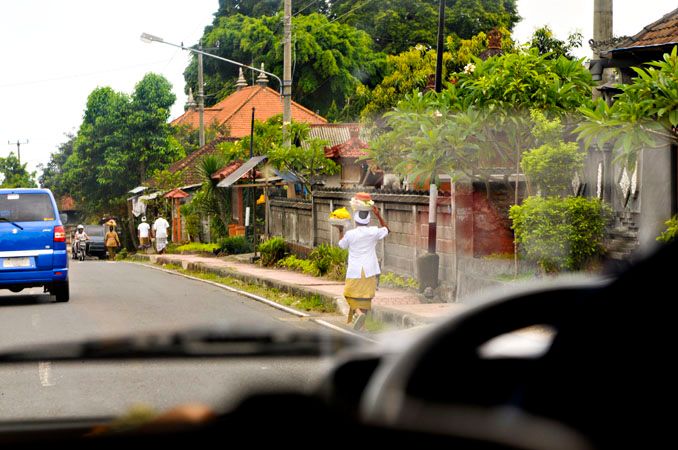 it is amazing what they are able to carry on their head, and often with no hands.
impressive.
I love how they dress too.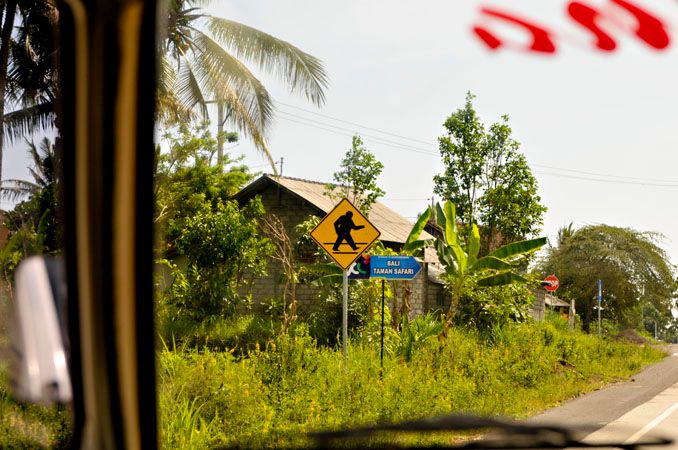 Another interesting sign. Not sure what this one means.
An abominable snowman crossing?
There are these little raised pavillions everywhere.
Their name is slipping my mind. There are always people gathered on them.
Just sitting. Perhaps smoking as well. A bit of shade in the heat, and a gathering
place of sorts. At first I thought they were a bus stop or something. ha.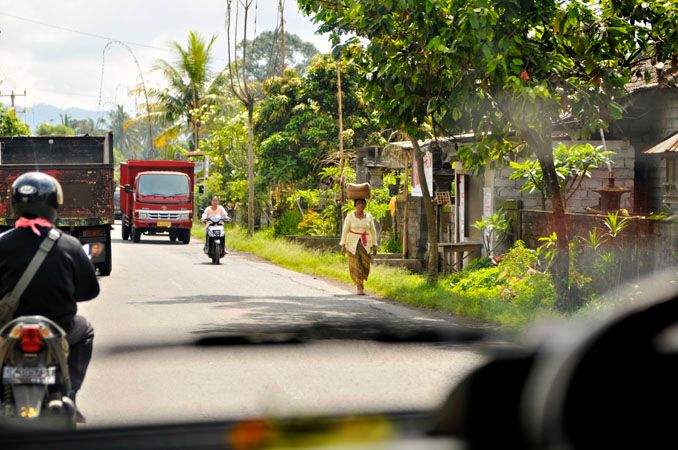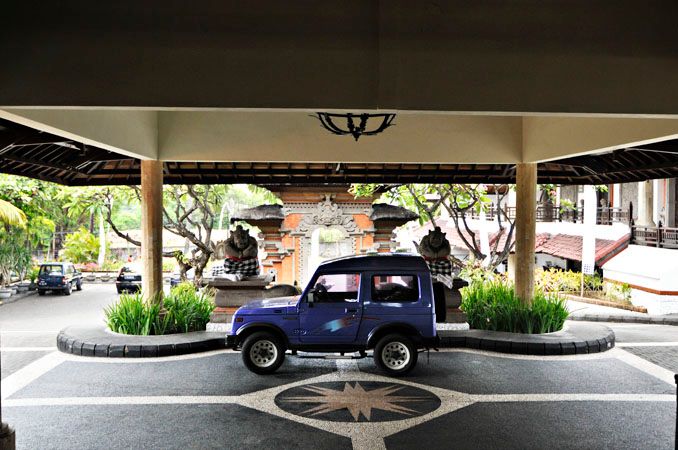 We checked out of our first hotel that was in the Nusa Dua area, which I don't recommend.
The beach is yucky if you ask me. Do you like our Jimney (the jeep)?
They almost didn't let us in at our next accomodations when we pulled up in the Jimney.
ha ha. It was like, what are you doing here?
I understood when we were shown our "room". Let me explain. Number one. I got an out of this world deal on agoda.com (i really like this travel site for hotels).
Number two, they don't really explain on their website that when you book a room, it
is a part of a villa and you have full use of the entire villa. And guess what?
There was no one else staying at our villa the entire time.
and wait until you see this place.
Villas are the big thing here and you can get one with a pool quite inexpensively.
Many of the hotels are just a group of individual villas.
I searched on Agoda for many hours before I decided on this place.
It is really inexpensive to stay in Bali. You could find a place for $20 a night that is decent.
Which I think is the huge draw for people to come as well.
You can get massages for $5 an hour, and it is cheap to do everything.
They will have a tour with a driver that picks you up and you go to a spa for two hours,
rafting, have lunch, go to various sight seeing places, be gone for 10 hours and the
price will be $35. It is amazing.
So what I recommend is staying at a cheap place in Seminyak (in the southwest) if you want a decent beach with waves and all the action of shopping and restaurants (but lots of people). You could also do Kuta, but it is pretty crazy the million small cramped streets and a little bit older, but again cheap, and then go on cheap tours and see everything that you want to see. Although, we didn't get to explore the north and stay up there. I preferred a beach, but there are thousands of jungle, artsie, yoga, elephant, type places. Ubud is the main area. For you vegetarians out there. There are a lot of places catering to organic, whole foods, vegetarian in Bali. There was once place that was a yoga/ surfing women's retreat.
Doesn't that sound awesome?!
There was so much up north that we didn't get to. But that is because once we got to this villa, we didn't want to leave for anything. It is that amazing. You'll see. So what I am saying is stay somewhere cheap, and explore on all these cheap tours and then head to this resort for the last couple of days for the ultimate in luxury. You will never want to leave.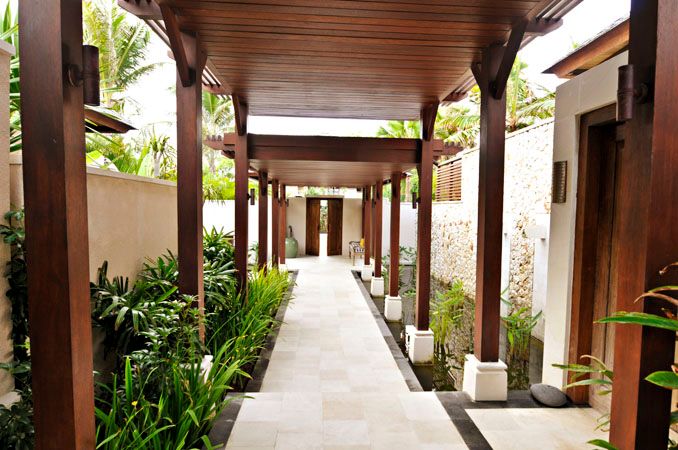 Looking back through the front entry.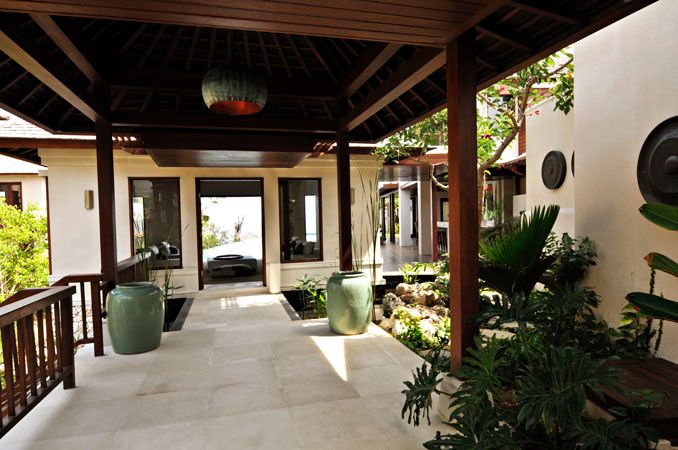 Looking forward toward the first living room.
this was on the wall, and I wanted one to take home.
This is dave and I in Bali.
So I put it in my suitcase......Just kidding.. ha haa haa.
But seriously, I loved all of the artwork throughout the entire villa.
LOVED IT!!!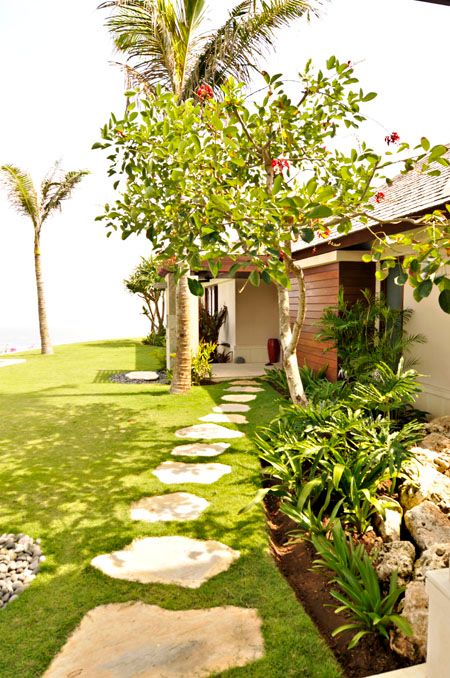 On the way to our room, which I highly reccommend.
The deluxe ocean front in villa number 1.
the entry way of our suite.
the bathroom.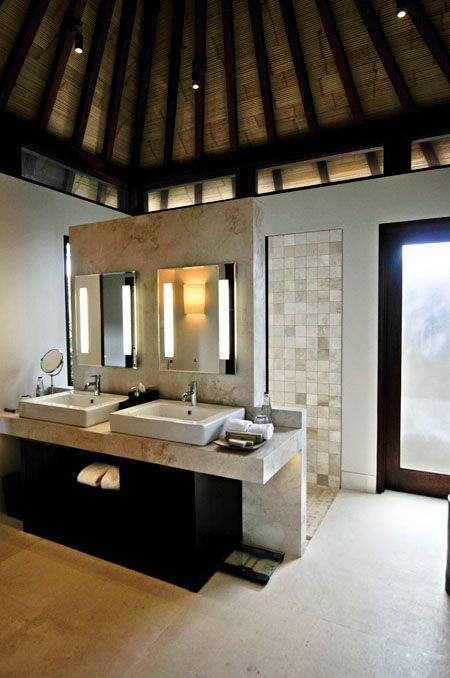 indoor shower.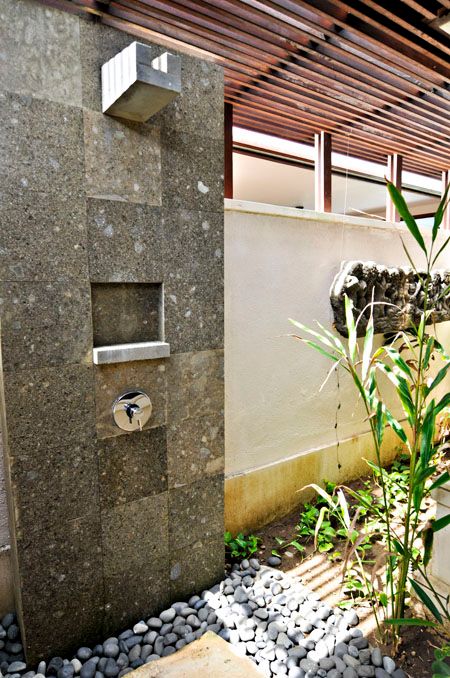 outdoor shower.
I am a sucker for outdoor showers.
Whenever I am researching to find a hotel, the ones with outdoor showers are always
top on my list. I don't know what that says about me,
except that I love bathing options. smile.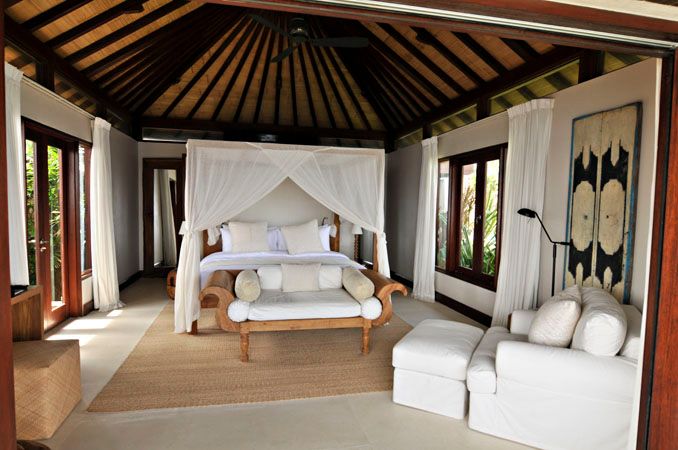 pinch me.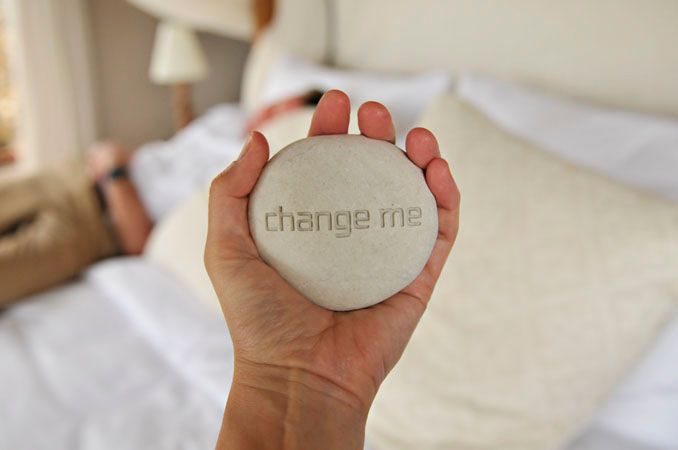 Dave gave this rock to me when we got married.
I wish. smile.
Actually, it is what you put on the sheets when you would like them to be changed.
How cool is that? I should have put that in my suitcase too. I kid. I kid.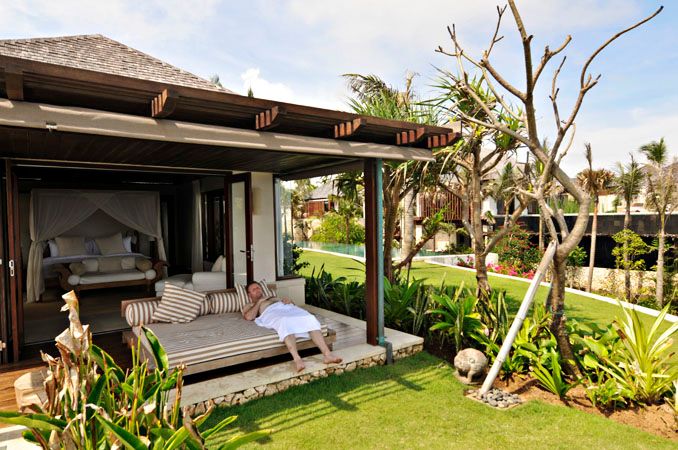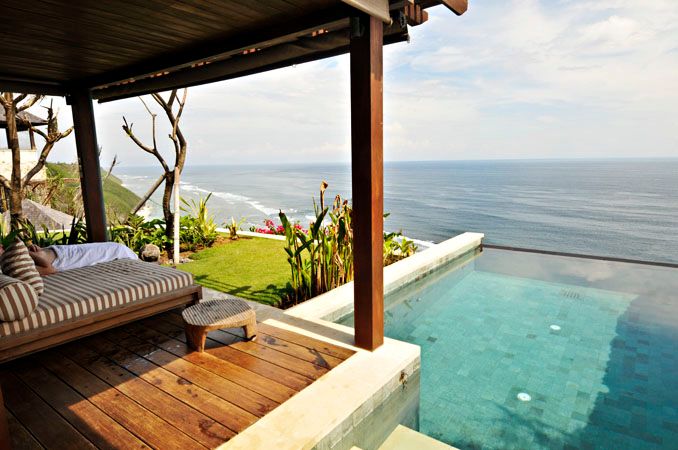 could you just die at how amazing this place is? It felt like I had died and gone to heaven!
Do you have a butler in heaven? ha ha.
When you rent out an entire villa you have a butler (and his whole staff)
at your beck and call. You have a chef that cooks for you, drivers to take you
where ever you want to go.
We just had a butler, and we kept trying to hide from him.
I would never want full time help. I like my privacy too much. I mean how can you
skinny dip with a butler always popping in I ask you? right?
Can you believe this view?
And from my cliff side plunge pool???? ahhhhhhhh.
way better than going over a waterfall on a raft. ha ha.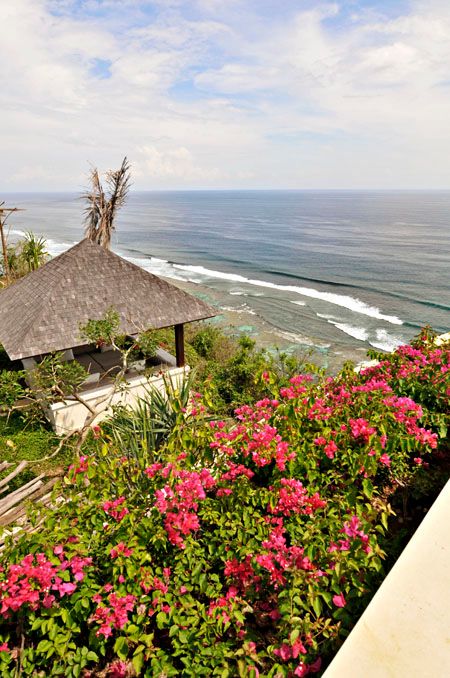 The pavillion below there was a part of our villa.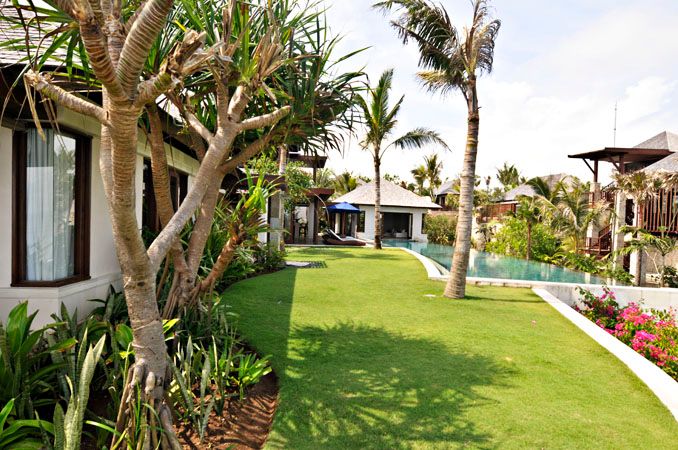 This is our villa's main pool. hold my hand!!!
As they were escorting us to our room and I started to realize that the
whole villa was ours, I seriously had to work hard to contain my excitement
until the villa manager left. Then I ran around screaming and jumping on
every couch in every room giggling with glee.
another outdoor shower by the pool.
The pool went right up to the main living room. So COOL!!!!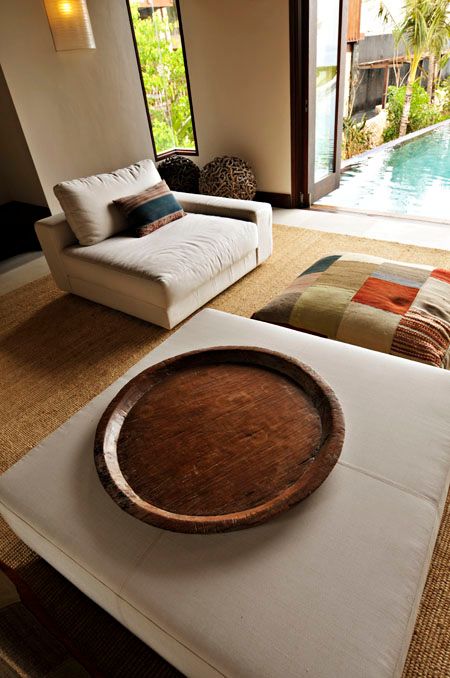 the dining room.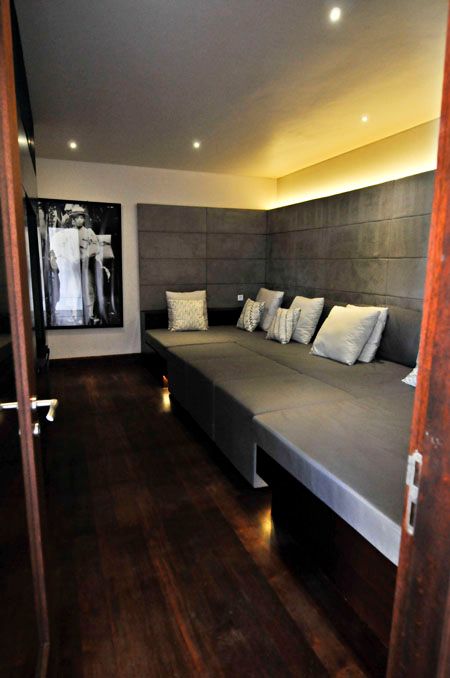 the theatre room.
the office upstairs.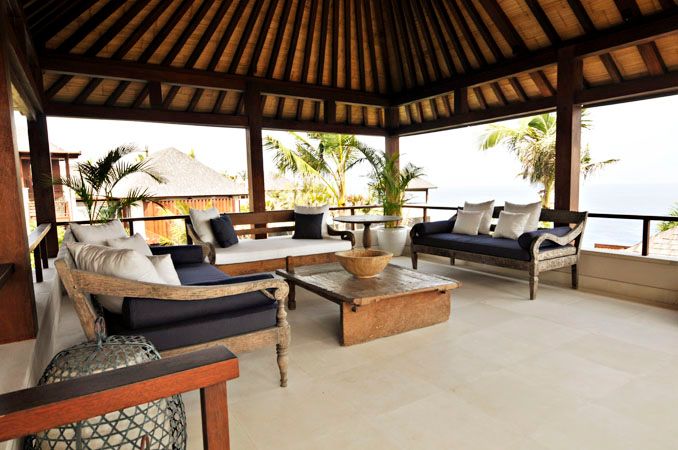 the upstairs living room.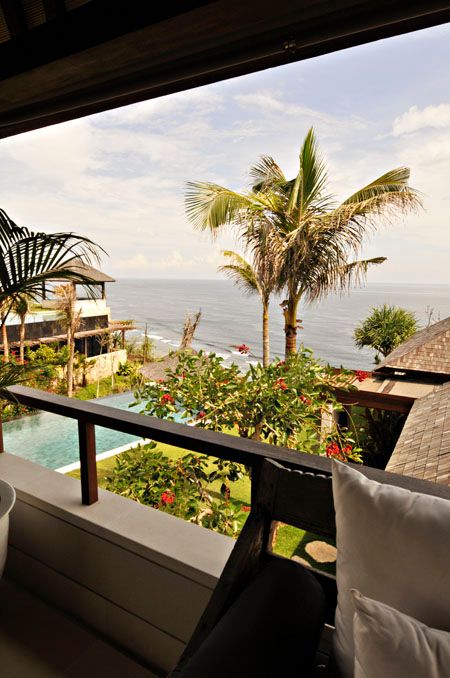 and it's view.
Lunch is served. We never quite made it to the dining room ever.
We always ate here or in bed.
Poor Dave, you will find the rest of the trip he is laying down.
At least he always had a spectacular view!
The only down side to the villa was that I kept thinking how fun it would be to invite
friends over to come and party with us in this awesome huge villa.
You know, jump out the living room door into the pool, play board games,
watch a movie in the theatre room, and hide from the butler together.
Why is Bali so far away? dang.
We finally made ourselves leave the villa to at least go down to the beach.
Isn't this bench cute that is by the front door?
the entrance to our villa.
the tennis courts.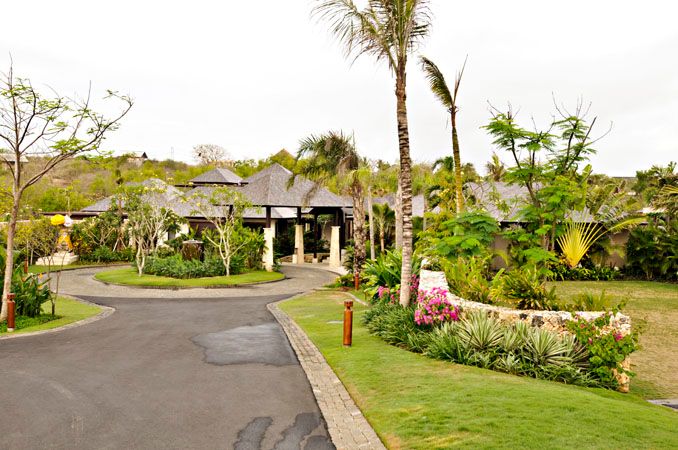 the main lobby and restaurant, spa, gym etc.
Our butler insisted on escorting us down to the inclinator.
Which is this cool little tram down the cliff to the beach.
steps down to the beach.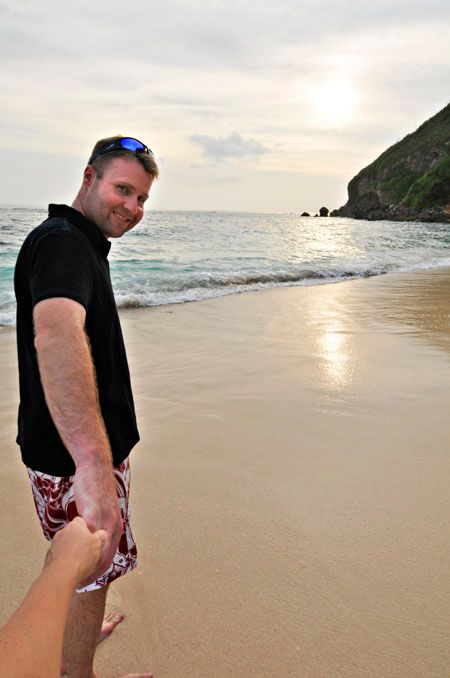 poor dave, had to always be laying down.
I had the life guard take me for a ride out on a kayak. smile.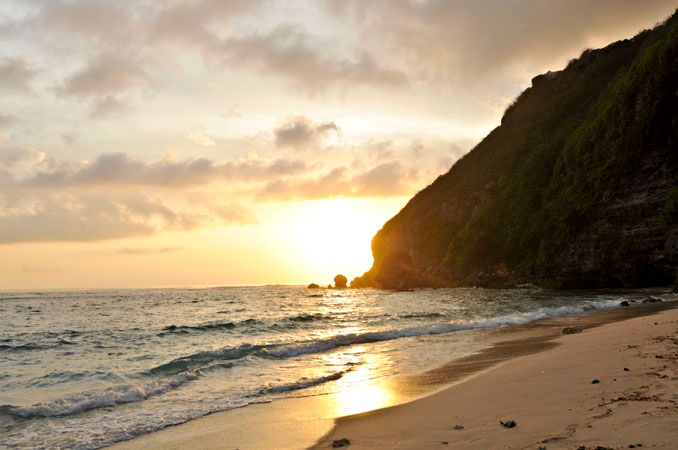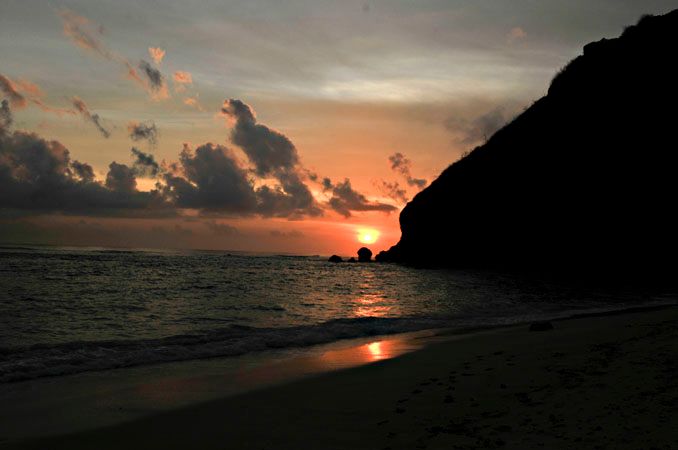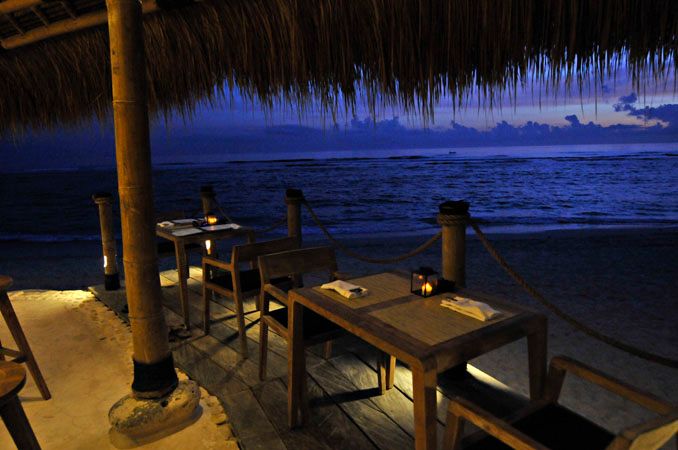 the perfect quiet dinner. I took pictures of the bathroom at this place. It was so amazing.
But come on. I am already out of control in how many pictures are in this post.
What was so amazing is that we were the only ones around.
I guess everyone else has their chef cooking for them. ha ha
this came with breakfast every morning.
Do you see the yellow watermellon? I had never heard of that.
It is so sweet and delicious.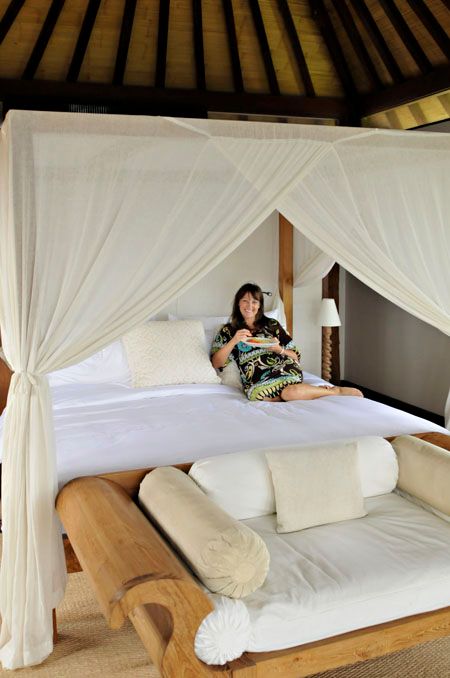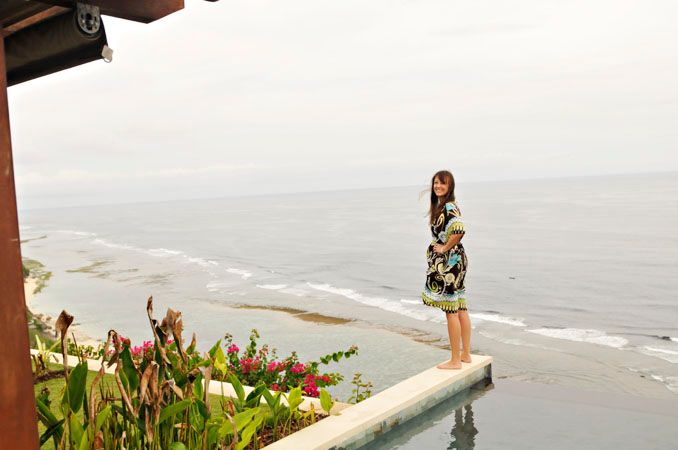 time for church.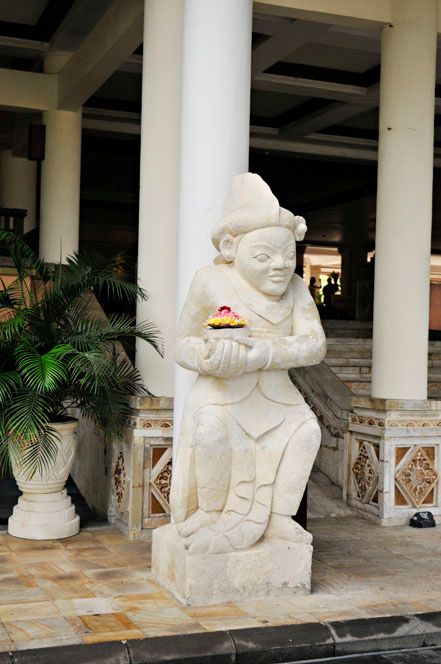 It was being held at the Aston hotel in Nusa Dua because there were 30 people coming from Singapore for girls camp. How would you like to go to Bali for girls camp? Melanie, can you make that happen?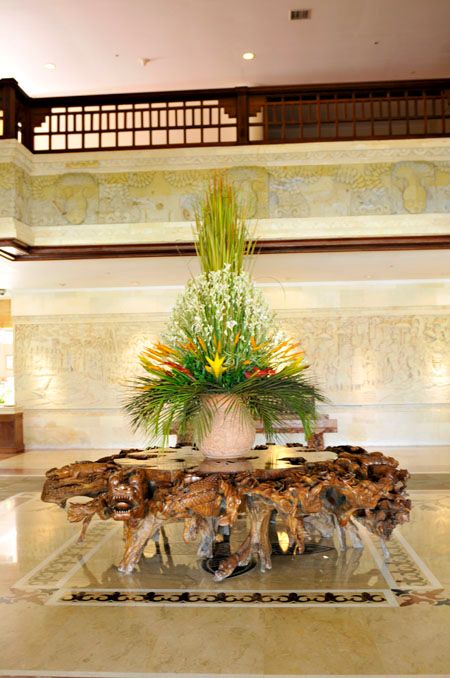 Again, their wood and stone carvings are so amazing.
These instruments are not my favorite.
I must admit, the Balise traditional music was not my favorite.
It ranks right up there with Chinese opera music.
Headache makers for sure.
Picture of everyone at church that day. The people sitting are members that live there.
the church was just officially organized there in April of this year.
They did only have 3 members who would meet together the past 17 years.
Now they have 17 members. They were awesome.
I would love to be a missionary there.
Sunday afternoon we went to the Uluwatu temple which was close to
where we were staying. It was getting close to dark, so the pictures are a little dark.
Your knees need to be covered when you come in, so they pass out these sarongs.
I just had to wear a yellow sash. I really need to research more about the
symbolism of the sash etc.
this place was crawling with monkeys.
and I am not using a zoom lens here. I had on my wide angle which means
I was super close to them when I took these pictures.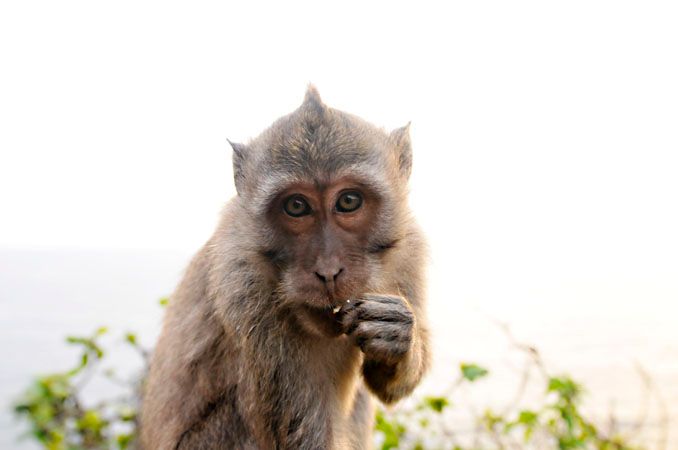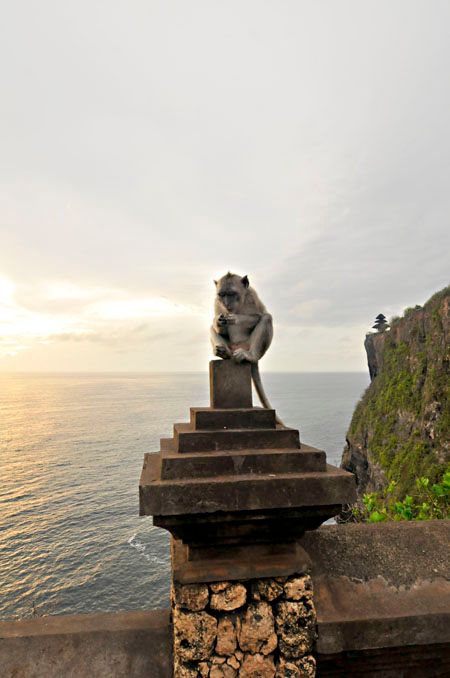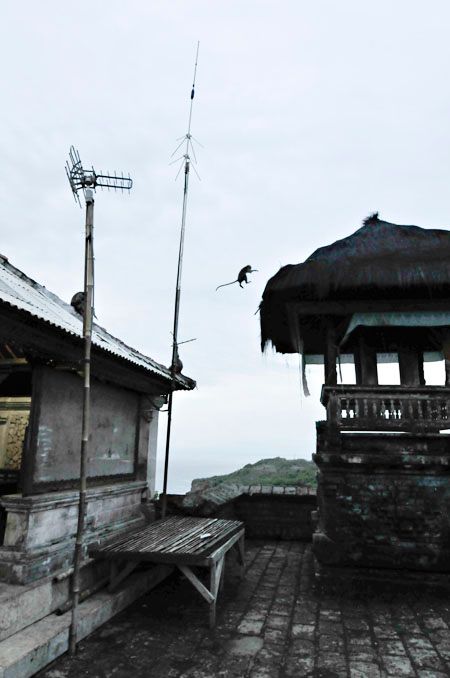 for some reason photo bucket won't let me put on my last picture.
It is hysterical. It is a monkey with a huge water bottle raised with both
arms above his head, standing on a pillar and silhouetted.
I started getting scared the darker it got.
These monkeys are so aggressive. One came up and was trying to rip my flip flop off my
foot as we were walking out. It freaked me out.
It was like "rise of the planet of the apes."
You would have liked it I am sure Grant. ha.
Anyway, that's it. We stayed at one more place for just a day in Seminyak and it was nice.
I think it was called Seminyak Beach Resort. Sorry no pics.
I would love to go back to Bali. There is so much more I would like to see and do.
I don't often feel that way about a place. But I doubt we will. We move next
summer to Italy and there is way to much to explore and do in Europe etc.
But keep Bali in mind. I hope I peaked your interest. Dave and I dreamed of having a family reunion there and staying at a villa. Like I said, dreamed. I think it would be an awesome place to go on a honeymoon for sure. Who knows, maybe some day Dave and I will go back as
missionaries. smile.