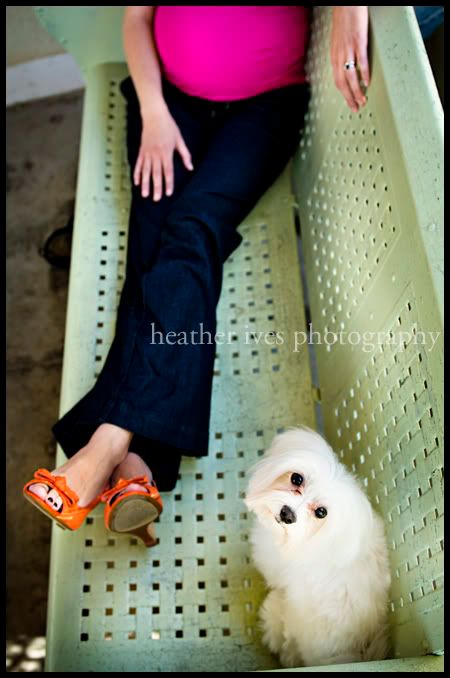 I did it! I got out of the house today and did a photo shoot! I absolutely could not postpone a maternity photo shoot, so I just prayed that I would feel well enough to do it. It was looking bad last week, but yesterday I felt a little better. I was seriously praying that I would feel well enough today. Thank heavens I did, and it felt so good. It was so wonderful just to be outside! The weather was so beautiful! I met Jessica & Matt (and dog jake) at a restaurant downtown called "Cibo". After the photo shoot, Dave came down and met me for lunch there. It was so very very yummy, and so wonderful to sit out on the patio. Heaven.
I came home to a clean house, and I went straight outside and fell asleep by the pool for an hour. I haven't felt well enough to even go outside (i know, weird). I picked up the kids from school, and they swam while I looked at magazines that I haven't felt well enough to even look at (again very weird).
Than another wonderful surprise! My darling friend Petra stopped by and brought me a bag of super cute maternity clothes (she is young and hip), and SEA-BANDS to try for the nausea. It made me very happy. Also another dear friend stopped by ,(Darla) and it was so wonderful to see her kind face. Than, I talked to my special friend LeAnne on the phone. I have hidden myself for so long and wouldn't talk on the phone or see anyone that it made me very happy to remember that I have such good friends.
Last but not least, this picture above from today's photo shoot, makes me very happy! I absolutely LOVE IT! and i am so excited to edit and share the rest! Such a happy day. Yeah me!
I was forgetting how much i love life, seriously. This day was a wonderful gift. I hope I feel good again tomorrow. And if I don't, I won't complain, because this day will help me hold on for awhile longer.