So why you couldn't find the recipe is because it wasn't really a martha stewart magazine, it was this one. This whole magazine is pure eye candy. Usually there will be a couple of cool things that you would like to make in a magazine but you don't want to fork out the money for just one or two things. This issue is worth every penny. There are so so many ideas that were amazing, I had to borrow the magazine to just show you a few of them. It helps that I love halloween, and halloween parties. enjoy!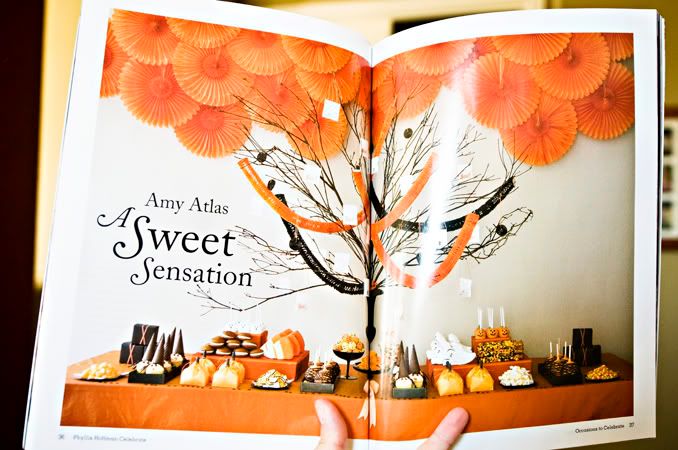 So cool!
I love the idea of a clue party. Have people dress up as the characters. They have the whole menu ready for you too.
MENU
John Boddy's

Bacon cheddar ranch dip
Mr. Green's

Tequila line chicken wings
meatbass with

Colonel Mustard

sauce
Pork and pineapple skewers with

Professor Plum

sauce
Mrs. white's

peanut butter truffles
Mrs. Peacock's

pound cake

Whodunnit?

cake
How about a
BLOOD -READ.

With dramatic readings of poetry and Gothic tales.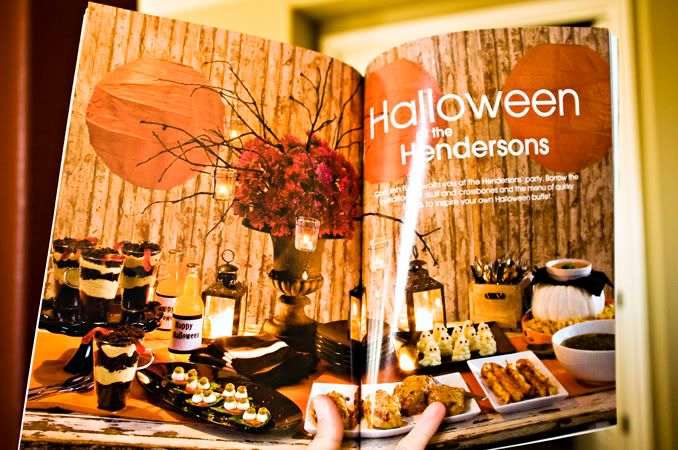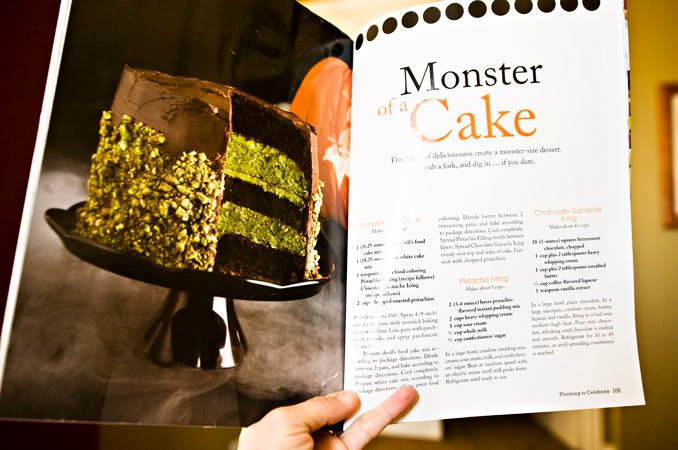 And last but not least this awesome cake. I love the crushed pistachios on the outside. Here is the recipe.
1box devil's food cake mix
1 tsp. green food coloring
2 cups chopped roasted pistachios
Preheat oven to 350. Spray 4 (9 inch) round cake pans with nonstick baking spray with flour. Line pans with parchment rounds, and spray parchment; set aside. Prepare devil's food cake mix according to package directions. Divide between 2 pans, and bake according t0 package directions. Cool completely. Prepare white cake mix according to package directions, adding green food coloring. Divide batter between two remaining pans, and bake according to package directions. Cool completely. Spread Pistachio filling evenly between layers. Spread Chocolate Ganache icing evenly over top and sides of cake. Garnish with chopped pistachios.
2 (3.4-ounce) boxes pistachio flavored instant pudding mix
2 cups heavy whipping cream
1/2 cup confectioners' sugar
In a large bowl, combine pudding mix, cream, sour cream, milk, and confectioners' sugar. Beat at medium speed with an electric mixer until stiff peaks form. Refrigerate until ready to use.
12 (1-ounce) squares

bittersweet chocolate, chopped
1 cup plus 2 Tbsp. heavy whipping cream
1 cup plus 2 Tbsp. unsalted butter
1/4 cup coffee-flavored liqueur (i think this was skipped)
In a large bowl, place chocolate. In a large saucepan, combine cream, butter, liqueur, and vanilla. Bring to a boil over medium-high heat. Pour over chocolate, whisking until chocolate is melted and smooth. Refrigerate for 30-45 minutes, or until spreading consistency is reached.

There you have it. I would love to see your results!! If you live close, save me a piece. smile.