I have had a serious craving for basil all winter. We have not had it at the commissary since last fall and it still isn't available. I have been going crazy wanting it so bad (and no, I am not pregnant. I just love basil). I made the best homemade pesto sauce. So good that I wanted to just drink it straight. Plus, I have a whole stack of recipes that I want to try, but they call for basil. What is a girl to do?
What a happy day when Kim called me and said that she has already harvested basil from her garden, and was happy to share some with me. Thank you Kim, i owe you big time. I didn't get a family garden plot since we are leaving for most of the summer. Who knew it would grow so quick!
So as you can see above, I immediately made pesto.
Here
is the recipe i used from allrecipes.com. It is super easy and so yummy. Go easy on the salt at first and add as needed. I think I could handle making it even nuttier.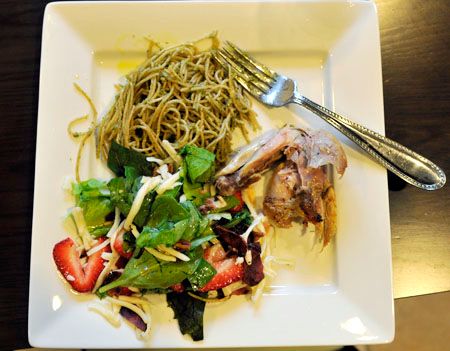 Along with my pesto on whole wheat pasta, i made one of my favorite salads, and had rotisserie chicken that I got at the store. Perfection I must say. The sweet dressing on the salad mixed with the pesto was an unexpected delight. Here is the recipe...
Strawberry Romaine Salad
Mix 1 lg. head romaine lettuce and 1 head Boston or red leaf lettuce
1 pint strawberries sliced
I cup shredded Monterrey jack cheese
1 cup sugar toasted walnuts (you could do pecan as well)
I like to add crumbled bacon as well (you could do turkey bacon for lower fat)
The dressing
1 cup vegetable oil, 3/4 cup sugar, 1/2 cup red wine vinegar, 2 cloves garlic minced,
1/2 tsp. salt, 1/2 tsp. paprika, 1/4 tsp. ground white pepper.
(this makes a lot of dressing, you could probably get away with halving it,
or save it for another time).
Don't mix the dressing with the salad and it will stay fresher, and people can put it on to taste.
Happy cooking!