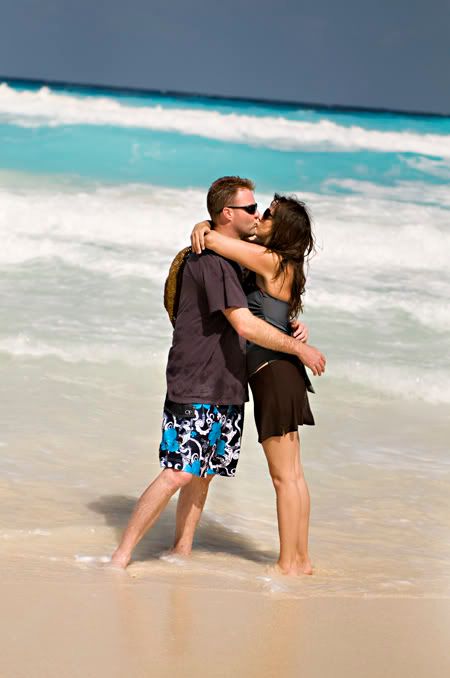 The first week in May, Dave and I always go on a trip. His birthday is May 4th, and he lives to travel. I am happy to indulge him. I am also his personal travel agent. I'm a good one too. smile.
Usually, we never go the same place twice. That would be too boring right? But there is one place I just had to go back to. The Ritz Carlton in Cancun Mexico. I have been waiting for years for them to have a good deal. When dear
travelzoo
(which is one of my favorite websites) highlighted a deal there, I called my most loyal customer of my travel agency and emphasized that he really should take advantage of such an amazing deal. He questioned whether it was good judgement to go somewhere he has already been. I explained that he needed to share the ritz with his bff Roger, and I was sure that I could convince him and his beautiful wife Teresa to go (I'm a good travel agent that way). So what is so special about cancun and the ritz. Let me show you.
(by the way, I don't kiss all of my customers. Dave is a very special customer. smile.)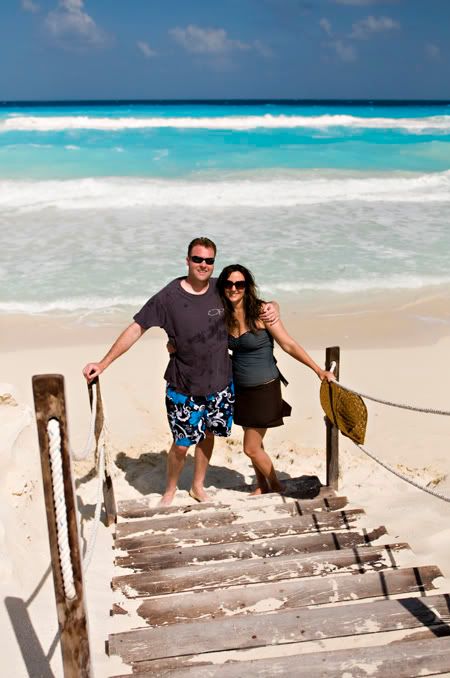 really, I could stop right here. These pictures are enough, don't you think? Cancun has one of my very favorite beaches. Not crowded at the Ritz, and the warmest water, perfect white soft sand, and glorious waves. It's a good combination.
View from our room. Dave is under the first umbrella from the left out on the beach.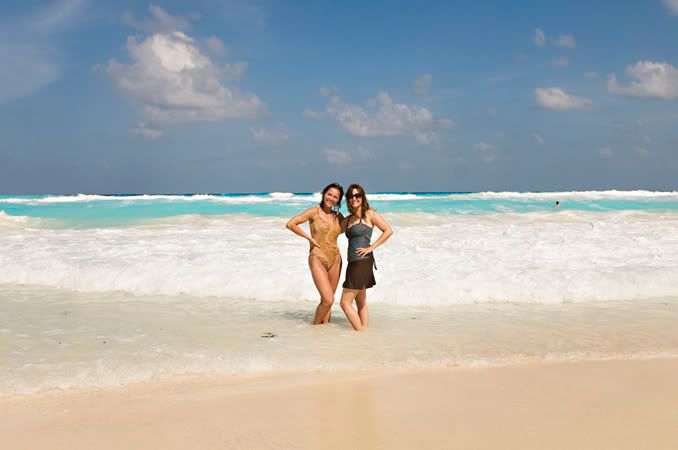 Teresa and I. Thanks to our great photog Roger.
Speaking of Roger, here he is at breakfast. The breakfast buffet is one of my favorite things about this hotel. This is seriously the best all you can eat breakfast I have ever had. Plus the service is a thing of beauty. Every night we would all comment how we couldn't wait until morning to have breakfast. We used this same table every time. Whoever got there first got the couch. smile.
I have never tasted pastries as good as these. Serioulsy, every bite melts in your mouth. Do you know how hard it is to try all of them? Especially in one meal? ha ha. Needless to say, we always left feeling a bit sick. ha.
One of my fabulous creations. If you can believe it, this plate was just one of the three plates of food that I ate at this particular meal.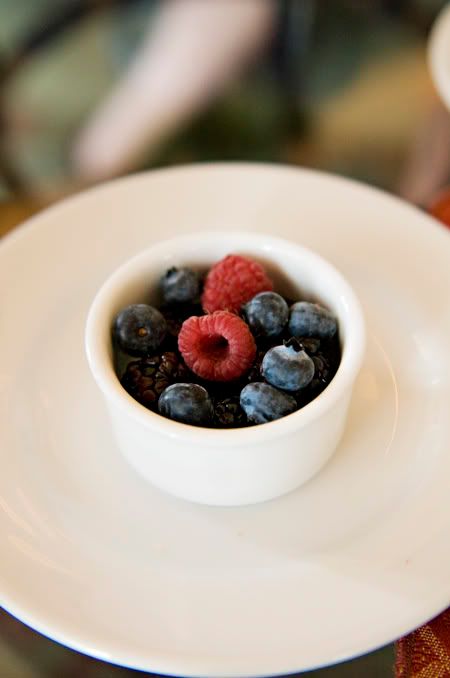 Every little thing is perfection. Like this little bowl of berries. Every berry tasted like the best one you have ever had.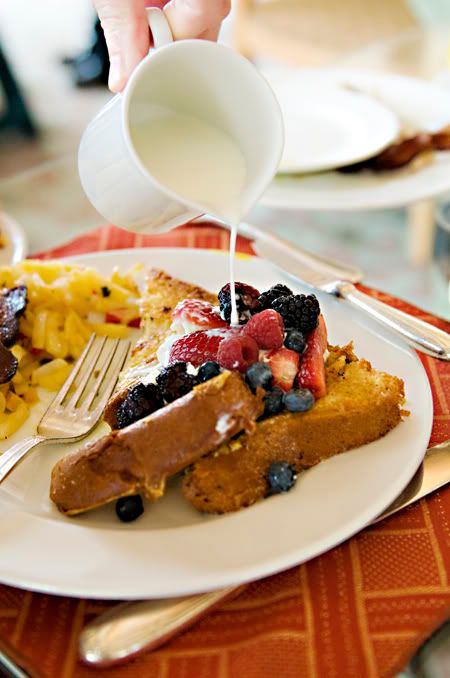 This is what DAve did with them.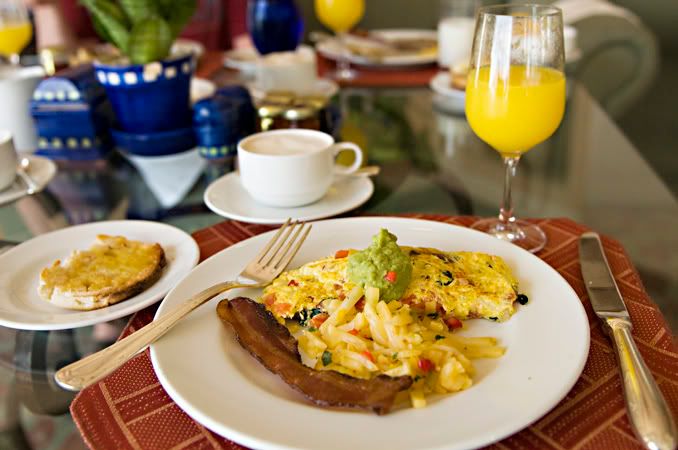 Plate two. Sorry, I don't have a picture of plate three. It had mexican favorites, some steak, beans, etc. There was just so much every morning. Most people don't feel the need to have it all. I can't imagine coming to this buffet and just having one muffin and some juice. ha.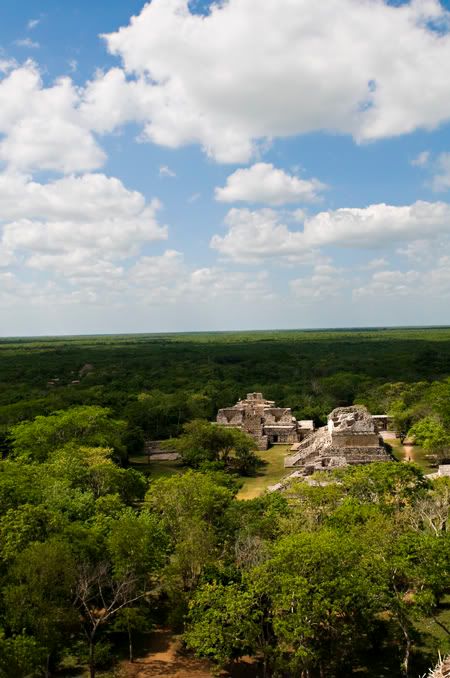 We did do things in between breakfast to work up an appetite. Like visit archaeological sites. Isn't this amazing. It is a newer site called Ek Balam (black panther in Mayan). We had amazing tour guides. Alma and her husband from Alma's Tours. They tie in the information with what we know from the book of mormon. It is like we stepped back into book of mormon times. This picture is taken from the top of a temple.
Coming down was pretty scary.
Up at the top were some amazing carvings. Learning the meaning of them was really cool.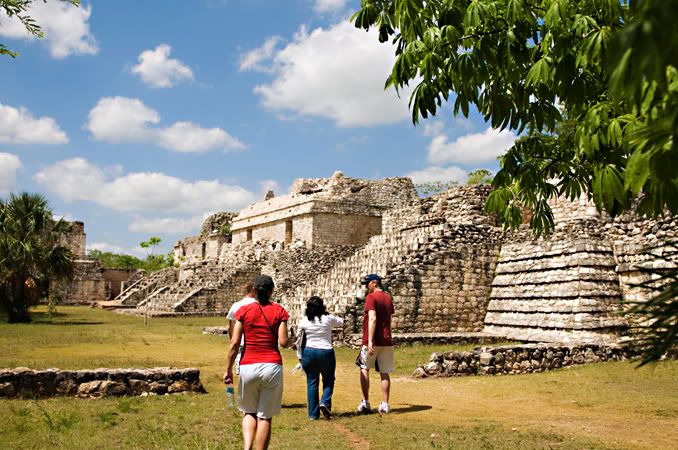 We traveled to a cenote to cool off than on to a traditional Mayan home.
Alma took us to meet a Mayan family that they are friends with. They have 15 children. Amazing. Here are three of their youngest girls with their bet monkey "Natasha". This is their house. They live in round huts with dirt floors and thatched rooves. They sleep in hammocks. I think the kids would like this. I think I would have to pass. Especially at night, out in the jungle is scary. I guess I am just not used to the sounds. They are scary to me.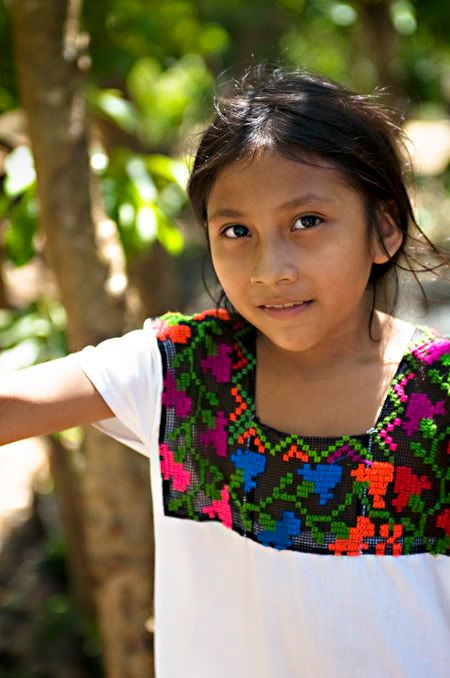 All of the girls were wearing dresses like these that they make. Aren't the beautiful?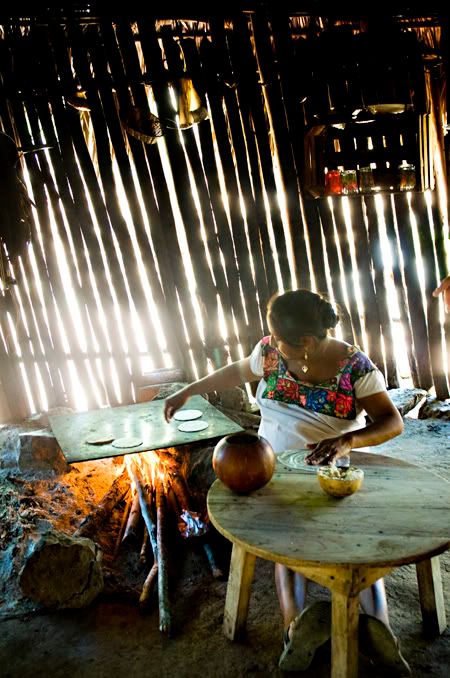 Here is their mother where she spends a lot of time making food. She is making corn tortillas here. Everything is very primitive. As you can see. We are so blessed with so many modern conveniences. But their life was beautifully simple and filled with love. But i was really happy to sleep in my comfortable bed that night and in sweet air conditioning. I already decided that if I ever find out that air conditioning causes cancer (or something equally horrible), I will still use it. It is that important to me. seriously, I have thought about it.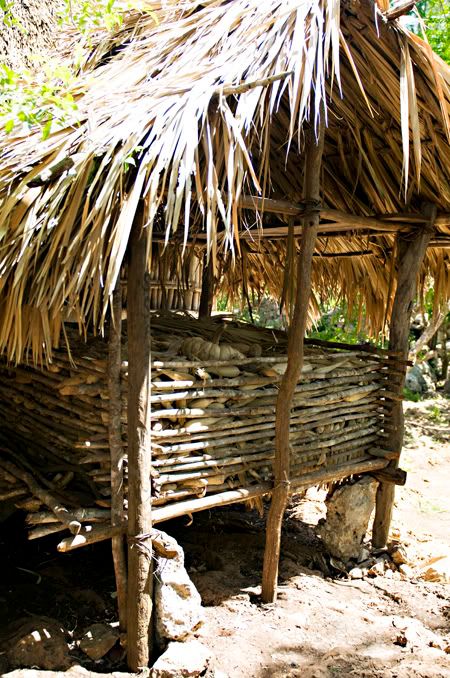 Here is their food storage. Lots of corn for all those corn tortillas.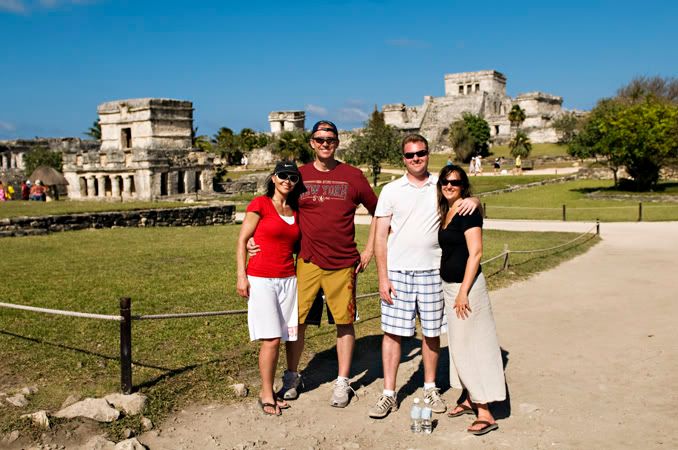 On to Tulum, which would have been my city of choice back in the day. I mean really, it is on the beach, what were all those communities inland thinking? ha ha. But now that I think of it, I am pretty inland myself. In a desert no less.
They did have these huge iguanas everywhere. And I mean everywhere. I think they are pretty cool.
After snorkeling , and a stop for ice-cream, we finally arrived exhausted back at our hotel.
Here we are with Alma and miguel.
While going off exploring is great fun. This is my favorite place. This is vacation. Do you see what I am reading? The second book in the "Hunger GAmes" series. If you have not read these, go and immediately find a copy. They are the perfect vacation read. You can't put them down though.
So now we are home, and that move to Korea is starting to really creep up on me. Yikes, there is a lot to do. The latest is we are moving in August, and going for one year. We are putting everything in storage and living off base in a furnished apt. At least that is the tentative plan.