This is a recipe from my brother in laws health coach. She is a nutritionist, and now that I think of it, I have her whole recipe book. I need to start making all of those recipes.
Are you like me and buy recipe books that you are so inspired by, and can't wait to make all of the wonderful recipes inside? Then something happens and you never do. You just forget, or don't get around to it, and continue to make all the same boring things? Why is that? What can we do? I always think, I will just do one new recipe a week. And then I forget to do even that.
Well, I guess I'm not too horrible at it, I made this one. And this is the SECOND TIME, huge for me. Does that mean it is habit yet? ha ha. But that does tell you something (besides that i had leftover ingredients), it is really really good. In fact so good, it becomes unhealthy because I want to eat it all at once. Anyway, here is the recipe. You won't be disappointed.
1 cup raw pumpkin seeds
3/4 cup raw sunflower seeds
1/2 cup raw pecans
3/4 cup raw whole or sliced almonds
1/2 cup flax seeds
1/4 cup raw coconut
Combine all together and mix with 6T of pure maple syrup
Spread on cookie sheet and bake at 300 degrees for 20 mins.
After cool toss in dried cherries or dark chocolate (or both. smile)
Like any recipe you can change to taste. I like it better without the chocolate to be honest.
To find all the raw nuts, go to the bins in sprouts. Some i found at walmart in pkgs. They will be cheaper that way if you can find them. They have unsweetened coconut at frys.
Let me know if you try it and what you think.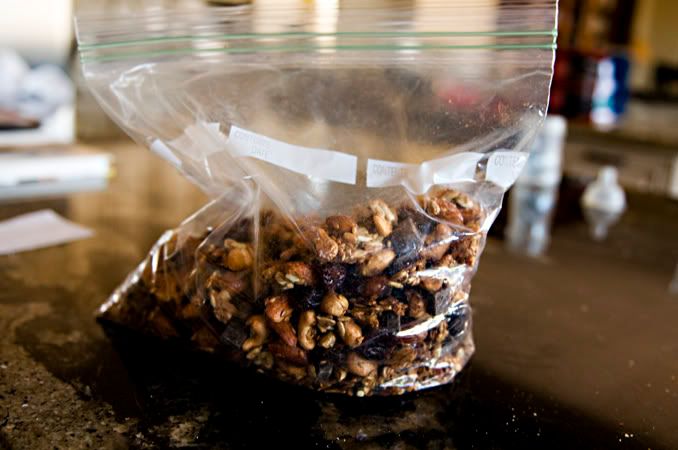 All ready to eat!
PS Did you see poor Daris on the biggest loser last night pleading his case? I felt so bad for him, and knew just how he felt, as I sat there watching the show eating pecan bars.