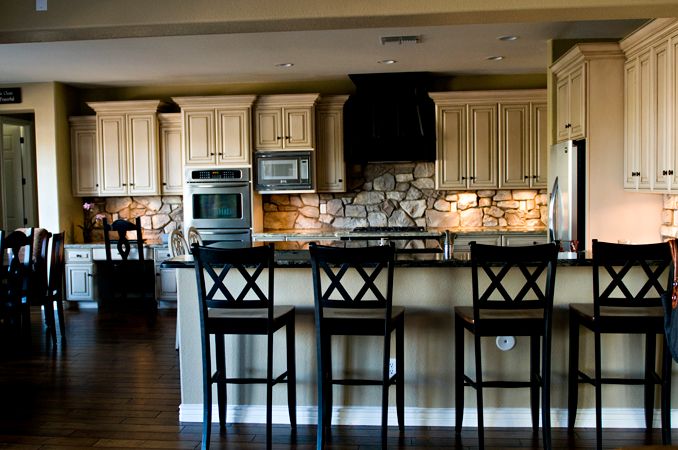 So here is the finished kitchen, and I love it! It turned out exactly how I envisioned it. The whole hold up on moving to this house was because the finisher for the cabinets couldn't get the finish right for the cabinets. We finally got someone else and he got it the first try. Let me show you around.
I am so in love with these wood floors. They are a hand scraped maple (in answer to your question Mandee) with a black antique rub. They tie together so beautifully the cabinets. There is a brown rub on both colors that comes through.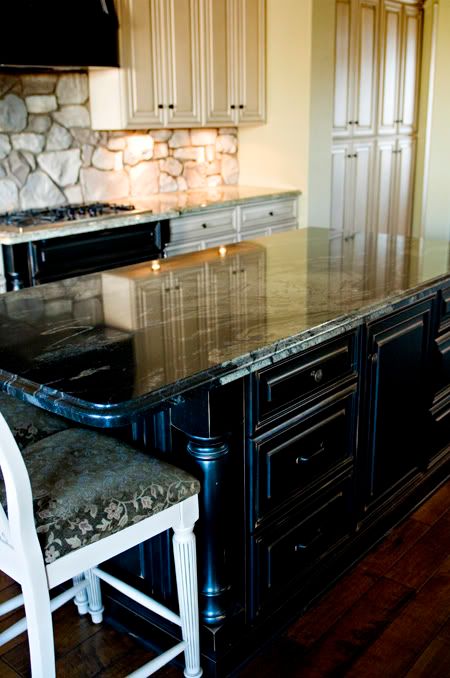 The island turned out so great! I ended up pulling in two different colors of granite. I fell in love with this black slab at the warehouse and it looked really cool with my other choice. You always worry because you are hoping it will look good when installed and with everything else. I am glad that I didn't chicken out on this idea. I love it!
I was going to a very small pantry in this house, so I had them build another pantry in the butlers area. It turned out awesome. There are all roll out shelves on the bottom and huge cabinets on top. Delightful.
i love the movement in the granite. Beautiful.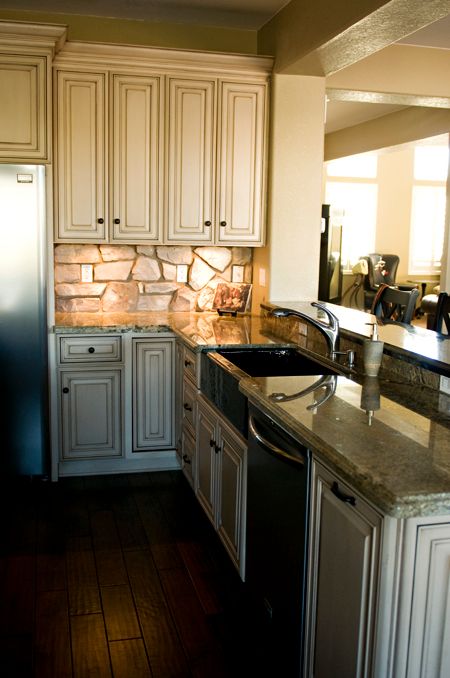 I am so proud of the deal I got on my farm sink. I really wanted this sink but it was like $2500 dollars! Yikes. I just had this feeling one day to check Craig's list. I thought what are the chances of this exact sink being listed and in my area. But, I looked anyway because I learned long ago to follow those promptings. Low and behold a black kohler huge farm sink had just been listed 20 minutes before I checked and I ended up getting it for $250!!! So despite what Dave thinks, Heavenly Father does care about the little things that will make us happy in life. And yes, a black farm kitchen sink makes this mamma's heart fill with joy as she washes her dishes. But really, isn't that cool that Heavenly Father does care. He said to pray about everything, and He would answer. smile.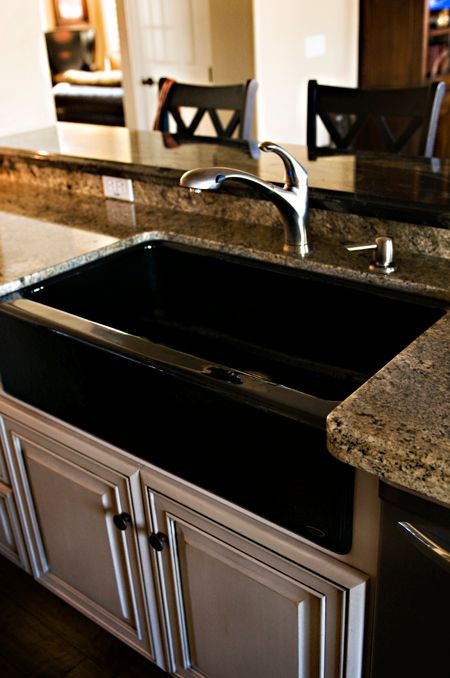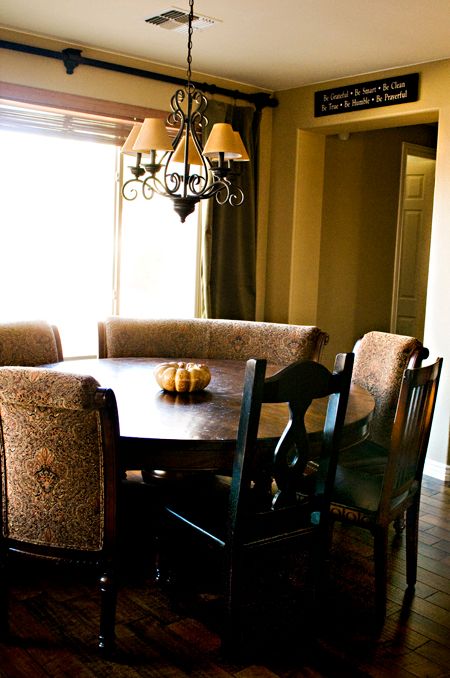 This is another one of my delights. I have always wanted a huge round table. Thank you DAve (and Potato Barn). I had a good excuse to get a new table. Our other table didn't match and the shape of it would be too big for the space.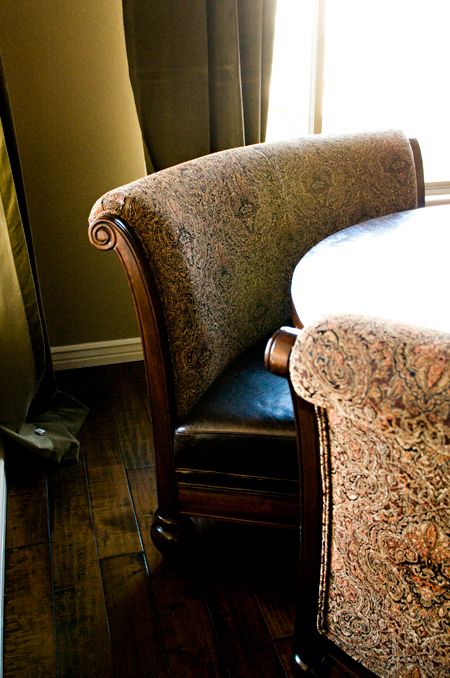 Then, when I saw these chairs at Razmataz, be still my heart. Have you ever seen such cool chairs/ benches? Me either. Natalie pointed out that I have a serious chair fetish. I didn't realize it until she pointed it out and then I counted how many chairs I have in my house. Let alone the ones I am not using out in the garage. Anyone care to guess? I should give a prize to the one who guesses right.
The kitchen has lots of other fun things that I are so cool. Like this rack for the pans.
A spice drawer, and all of the drawers are self closing. The other thing that I was excited about is I got all of my appliances for like half the price. They just happened to be selling the floor model on some, and than Lowes made mistakes in my order and made it up to me by giving me top of the line stuff for cheap. So while this whole kitchen ordeal was quite the nightmare. I ended up getting more for a lot less because of all of the hassles. So in the end, all that extra stress was worth it. Right?
So there it is. The kitchen unveiled. What do you think?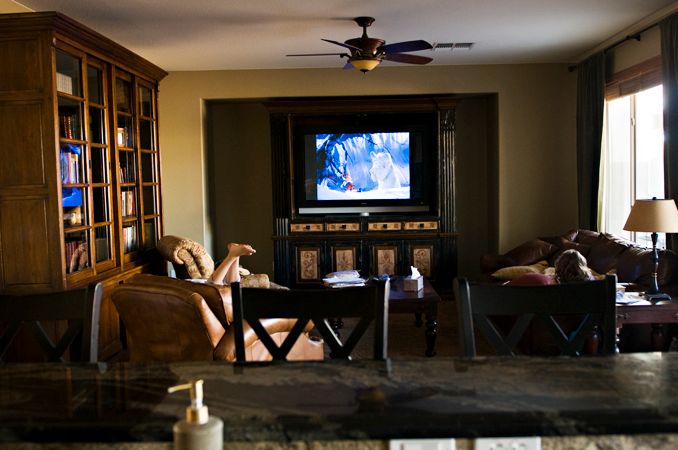 oh and here is the view while standing at the sink. I need to get things up on the walls and I will be done. At least with downstairs. Upstairs is still a nightmare. I have a few weeks to get it together before my family comes for Ammon's blessing day. I have been decorating for Christmas and it is looking so cozy around here.