i told dave last monday night that i was sad to not be spending the fourth with family for the first time in like forever. His reply, "well i can leave tomorrow." Is there another family as crazy as us? So, i stayed up until 1 am in the garage routering (is that a word?) around 150 wood plaques for one of the crafts for girls camp. Rebecca and Jacob sanded my completed work. I was glad that we didn't get any complaints from the neighbors. Rachel did laundry and threw in a few outfits for each kid. We finished up errands in the morning, loaded the car, and away we sped to lake tahoe.
I can't explain the ecstasy that i feel with that first inhalation of sweet pine goodness. I have been so aching for it. In fact, melanie got a picture of me at the pioneer trek just standing with my nose to a tree. I swear it was a Jeffrey pine, which is my favorite. It has the sweetest smell. trust me. There are few problems in life that can't be solved with a trip to tahoe with a little john denver playing and the sweet scent of the pines wafting in through the open car window. I slept every night on the couch next to an open window. The smell and cool mountain air lulling me to sleep despite my discomfort. Well, the benadryl helped too. smile. oh and the law and order til all hours.
i love all of these pictures because well, they aren't in my professional opinion good. But they tell a story, and give a glimpse of how things really are right now. Unmatched outfits, dirty faces, unbrushed hair, and total relaxation. I took so few pictures (not even a picture of the lake). But i knew that I already have a million great pictures, and i am secretly planning another trip back this summer. (I'll let you know the day of dad and kathi, ha ha). I just didn't have the energy. This darn pregnancy thing. smile. I wish especially that i had video of the party games at rebecca's birthday party. We did our family classics. The cotton ball game (where you blind fold the person, spread cotton balls all over the floor, and give the player a spatula and bowl. You time how many cotton balls they can get in the bowl in a minute. It is hysterical! Try it!) Also, dropping clothespins into a mason jar while standing on a chair. Kenny was at his competitive best! He insisted on always going last. It was fun to see Kathi and Sophia learn this family tradition as the newest additions to the family. Kathi gave kenny a run for his money too.
without further rambling.....
This is a must do on every trip. The jumping over the hedge. Lizzie was the one to be initiated this trip into the tradition. It took a lot of goading but she finally DID IT! Leah as you can see still struggles. She is sure that she broke her ankle in this picture.
Jacob is quite confident in this skill now. He is their trainer. ha. (Leah still getting no sympathy.)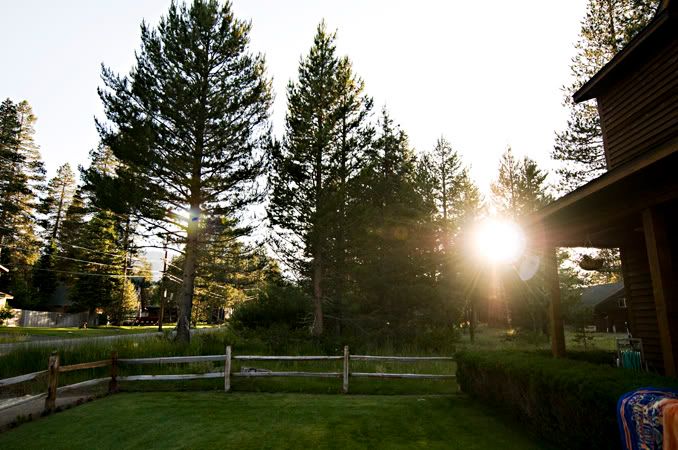 I know this picture fills you with longing Kelly, Nicole, and Gloria.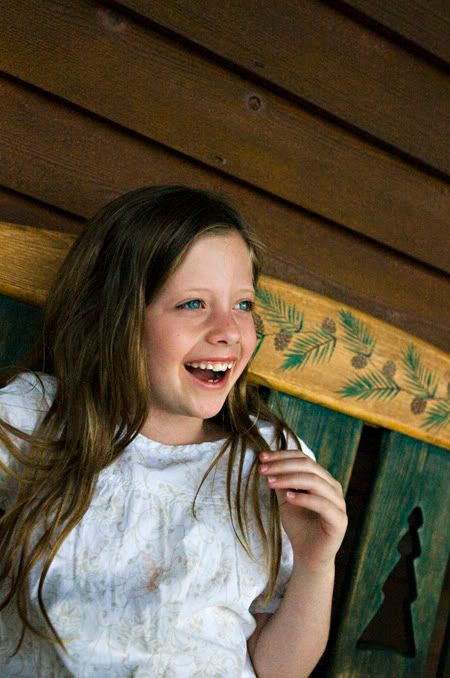 i love this kind of happiness. It is written all over her face.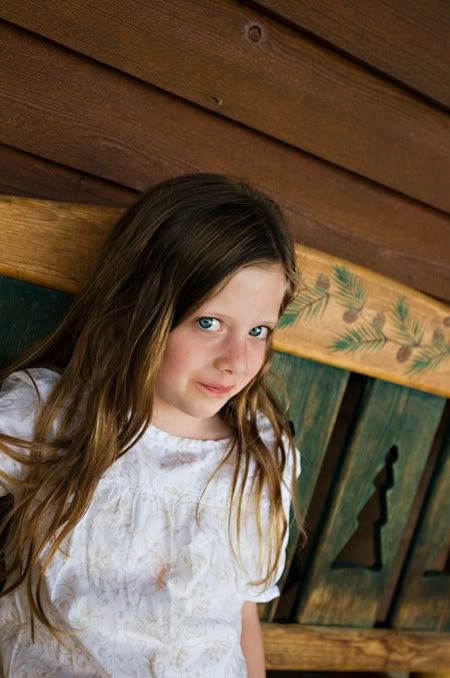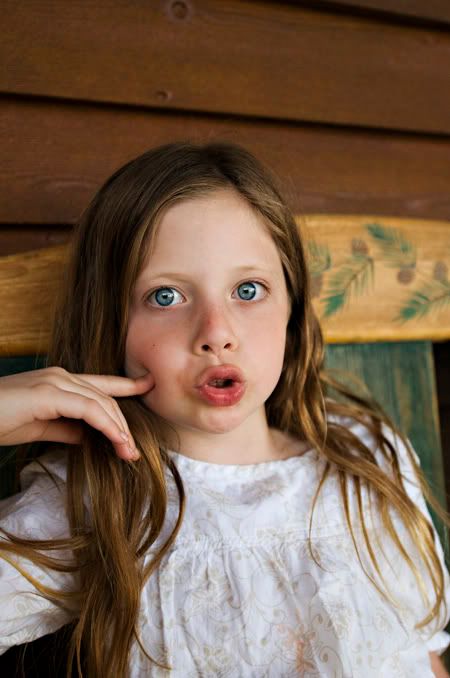 ok, my dad has become seriously obsessive about garage saling. He now does it religiously and says that he has "the eye." Than he peddles his deals on ebay. He always carries in his pocket this little magnifying glass to check out if jewelry is real. He confiscated some of the things the girls were wearing from the dress up box because they were real silver. Above Leah is showing him another piece of jewelry she found. He had her hold the old Polaroid camera that he just bought at the garage sale down the street. hysterical.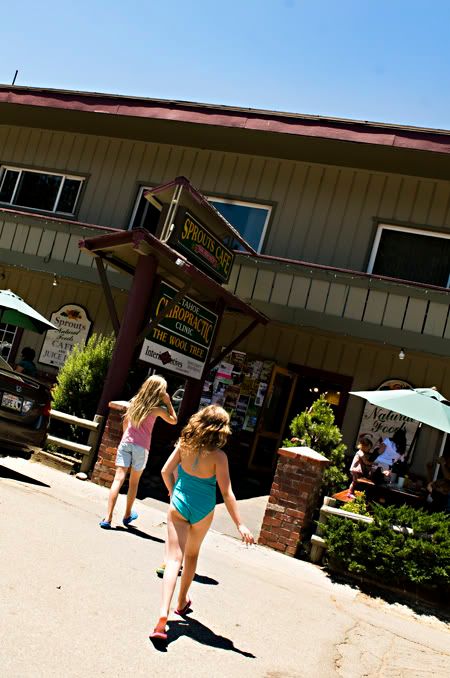 No trip to tahoe is complete without a trip to Sprouts on the way to the lake for some organic goodness. One of the best things about tahoe is it isn't a fashion show. The more unkempt you are the better. We fit right in. ha ha. only the tourists wear make up and dress up.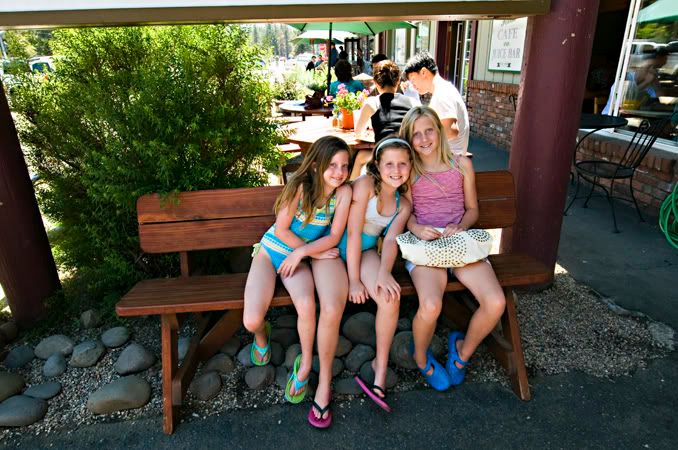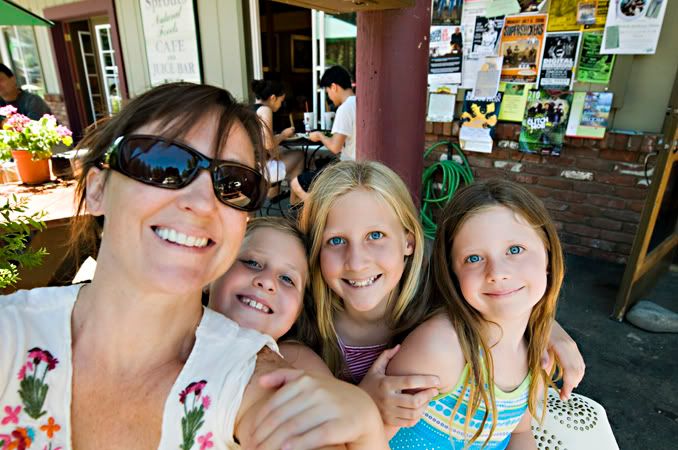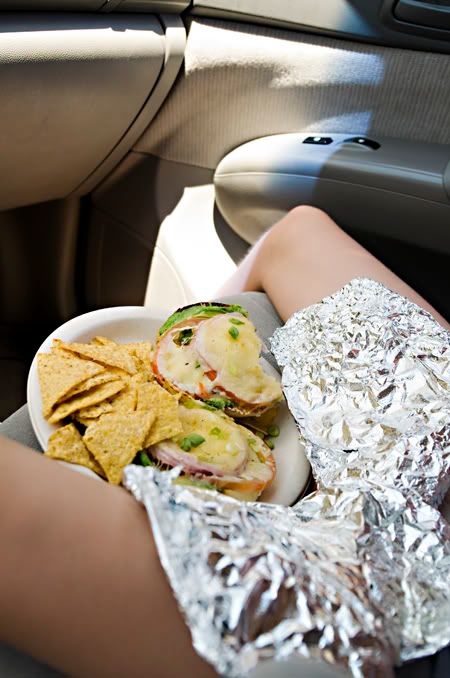 my favorite from sprouts.... the ATOM bagel (avocado,tomato, onion, and monterrey jack cheese with seasonings and green onion). It is out of this world and didn't make it to the beach, i'll tell you that.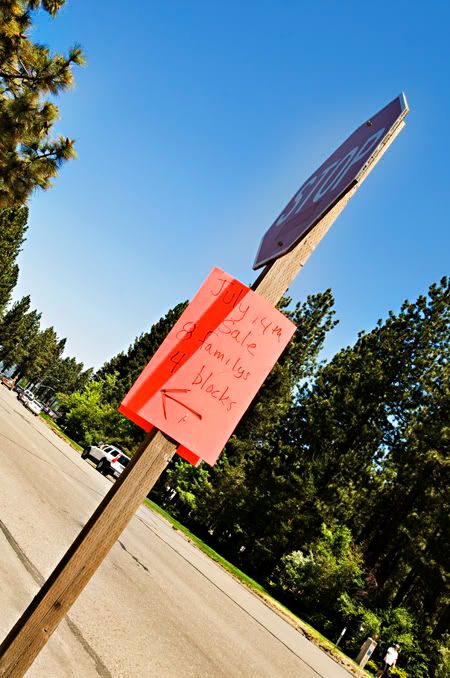 uh- oh. Look what we saw as we pulled out of the parking lot. giddy-up.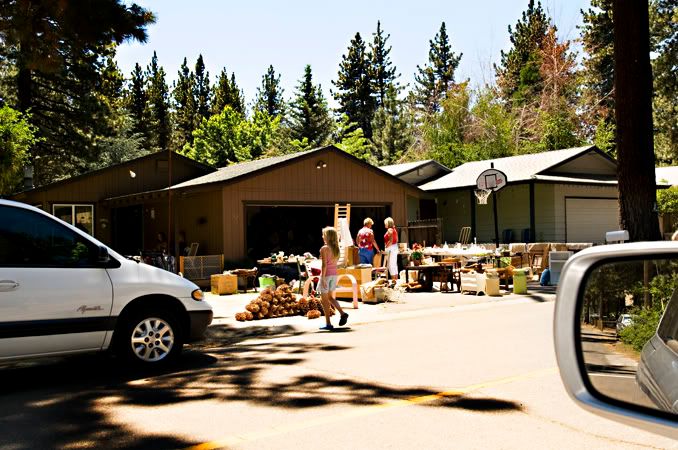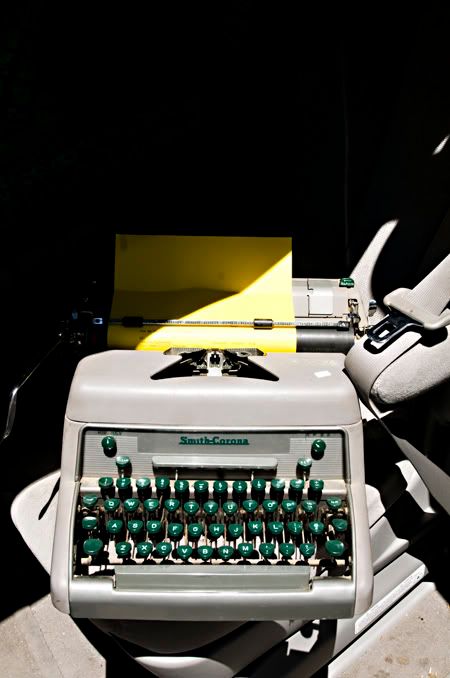 we came away with this beauty for $4.50. The girls are in playing office heaven now.
One more stop for slurpees and corn dogs at the 7-11 on the way to the lake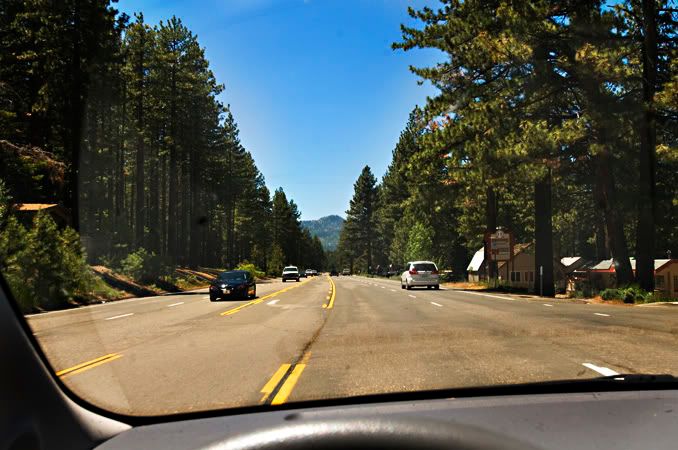 and we are on our way. Wish I had pictures of the girls building sand castles and floating on rafts. next time.
what has gathered such a crowd?
a special fourth of july cake. i love all the expressions here. (i wish i had pictures of your gorgeous fourth of july bbq spread kathi. As dave said it was our best meal all week! Probably all year! so delish)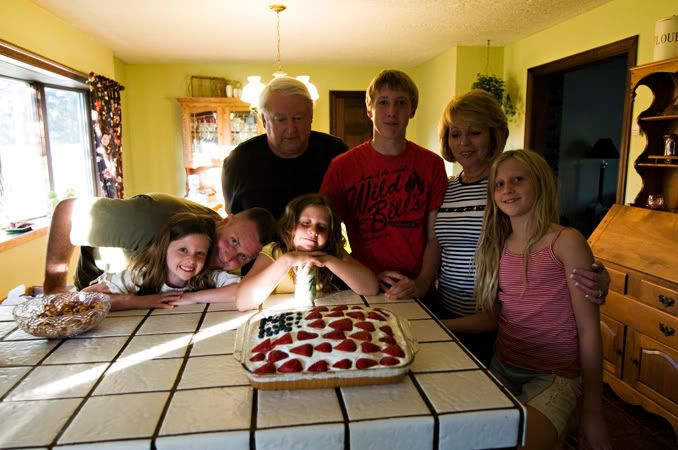 and here. Where is rachel you ask? She left with KEnny, Leticia and Sophia. (She babysat Sophia while they both worked that night. Although we rarely saw her the whole trip. She spent most of her time cozied up somewhere reading. Remember those 30 plus books she checked out from the library?
So that's it. I always cry when i leave tahoe and this was no exception. It was hard to even think of going back to the desert, but Rachel needed to be home for girls camp. The minute she gets home, off we go again. This time to Utah. i love summer.