We really moved to Forks, and next door to the Cullens. After I downloaded these pictures I thought maybe subconsciously that is why I was so drawn to this house. It was a misty cloudy morning, and the architecture of the house, we just could be in forks. Ha. But no, we are at Jisan-Pine House (the name of our neighborhood), and we absolutely love it here in Pyeontaek city. I have so so much to tell you, but I will have to take it one post at a time. It has been a crazy couple of weeks, a tad tiring and stressful at times, but so fun. I love the whole setting up house, and a new life for that matter. It is so exciting. These are the first pictures that I took so I will start here. The first day of school August 30th.
Rachel posing as a blond Bella. ha ha. These were some nervous kids, but they are so lucky to have each other, and not have to face "the first day" alone. Because we aren't "command sponsored" by the military (Dave's assignment here is just for him to do a year remote, and we came along on our own) we aren't able to live on base, and are only allowed in the schools if there is room. All the kids were on a waiting list, and thankfully the oldest three were able to start the first day. There are only about 400 kids in the high school (9-12th grade) and Rebecca is in the middle school right next to the high school. There aren't as many kids in the older grades so it wasn't a problem getting them in. Whew! Leah and Lizzie just found out that they can start next monday. We are so thankful. The high school and middle school are brand new and beautiful. I love anything all new and clean. I'm like "Monk" that way. It must be the OCD in me. I digress. Really the whole base is beautiful, I think. It is just so green here. I think that is it. The greenness just fills me up. I have missed that in AZ. More pics on that later.
We live up on a hill back behind some apt. buildings that they are still being built right now. So the kids need to walk down the hill (currently a dirt road) to their bus stop on the main street. The school does provide a bus for the kids that live off base (sweet). And get this, their bus doesn't come until 8:09 a.m. Seminary, which starts this week, will begin at 7:30 a.m. That right there is worth staying here for many years. The kids are loving the new me. I get up every morning at 7 a. m, which is a reasonable hour for any human to awake, and make them a hot breakfast and their lunches. They are probably wondering if I have been abducted by aliens and this is their replacement. They aren't complaining or asking questions though. ha. The elementary school actually starts earlier (at 8a.m.) so their bus is at 7:24a.m. Piece of cake. Anyway, the first day, I drove the kids down the hill so I could take pictures, of course.
These are the Swintzen apts. that are across the street from us. Back behind the apts. are tons of walking and bike trails. Really beautiful. Rebecca and I went on a long walk last Saturday. So cool.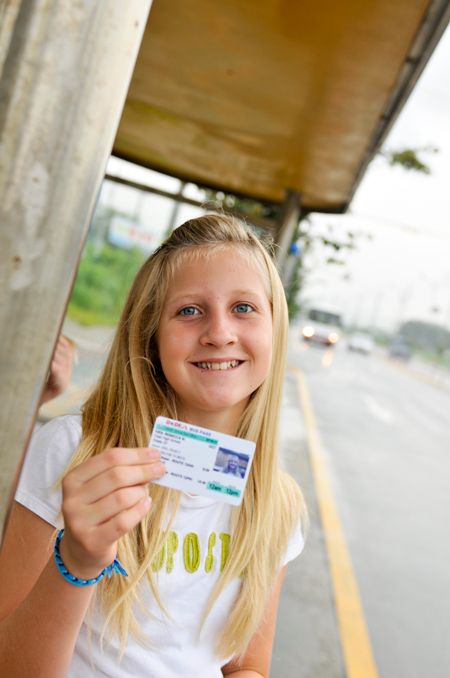 The kids love finally having things to put in a wallet. An id card that they have to use to get on base or get into the BX (the base exchange, our everything store), and the commissary (grocery store). They also each have a ration card that they have to show to buy anything on base. We have a limit of what we can purchase each month, grocery wise. Dave is concerned for me. ha ha. and BTW, the shopping is so cheap. They sell expensive name brands like Martha Stuart's line from Macy's for half the price and then there is no tax. WHAT? Also, I was sad thinking that I wouldn't be able to buy organic anymore. To my surprise and glee they carry more of it than most stores in the states, and it is way cheaper. Except for the milk. Even regular milk is more here. Everything else is a third of the price. They sell that 7th generation brand, etc. and it is the price of what I paid for the cheap brand of anything in the states. happy happy happy. Rebecca is displaying her bus card above. They have to have it, or no bus. The kids are in heaven with all these cards. They feel so important. The commissary is across the street from their school, so they can leave at lunch and go buy something there. We ran into Rachel today in fact on her way there, of course she couldn't get in because she has already lost her id card. Lovely. She also lost my lip gloss that I gave her this morning to borrow because she had try outs for cheer leading today after school. It was a good thing we ran into her because she was feeling nervous and sad and needed a hug real bad (doesn't that sound like Rachel). I'm not going to tell you what happened though until next post. oooohhh, i'm leaving you hanging. But it needs its own post. for sure.
And on they go.
Can you see Rachel's blond head? She is already on her phone doing who knows what. Another reason the kids are in heaven. The oldest three have phones. It is so cheap to get a phone. You just buy a used one off base and then buy minutes. So a $30 phone and then you just buy minutes. No plan, and it is really cheap. They only work here of course. You can buy an international card which is only like $8 for over 3 hours, but you can call for free other ways. The time difference is just a pain. I'll get on the ball here pretty soon though, and call. Things are starting to settle down. We just got our shipment today, and our beds, and a table and chairs. We have been on air mattresses and haven't had one chair to sit on for over 2 weeks. We had a workman come over to fix the home security system and he needed something to stand on to reach something and we didn't have one thing in our whole house. Too funny. He had to leave and find a ladder. When Dave gave the kids a blessing in preparation for going back to school, they both had to stand. Too funny. We were so very thankful to have our table and chairs arrive today that I ordered from the greatest cheap Korean Internet sight (gmarket.com) and not have to sit on the hard floor for dinner tonight. My back is very relieved.
off they go.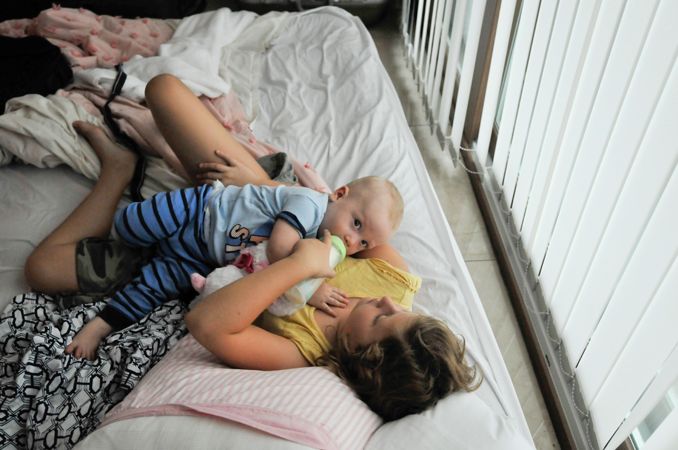 This is what I found when I came home. Very cozy.
So here is a pre furniture house tour. At least most of the house. I couldn't do our room. It was a sea of suitcases etc. That will have to wait. Every Korean home has a front entry way that has another door to the house. It is here that you remove your shoes. I like that.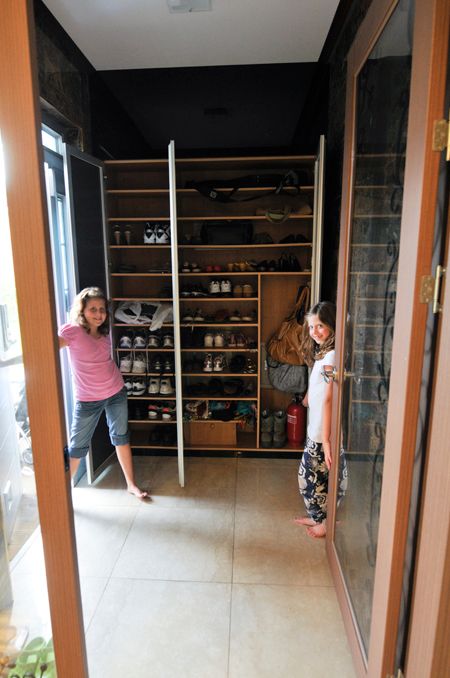 This has been Leah and Lizzie's favorite, and has provided them with much entertainment (I mean what are you supposed to do all day when you don't have any chairs. ha ha.) Let me explain. When someone rings the door bell it sounds on the phone. You answer it and you see who is at the door on the screen. It is fun, i admit. There are all kinds of buttons to push. If we only remembered what they do. ha.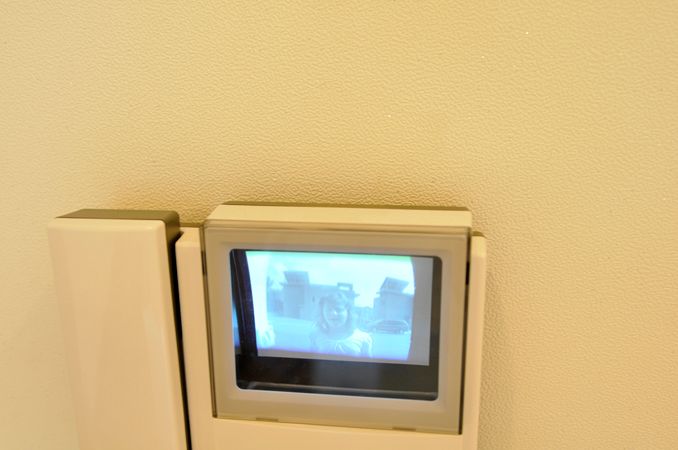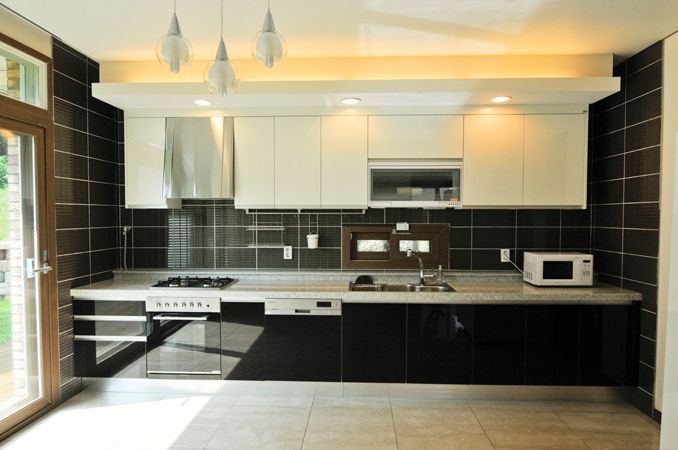 Ahhhh, the kitchen. You know, I love a great kitchen. I mean, what woman doesn't. Doesn't this bring to mind Ikea, or West Elm. Gloria got me hooked on the west elm look when I saw her house and new decorating style. I think I loved this house because of it. So clean and simple too, which reminded me of Kelly. I will confess, we were going to move into an older apt. that was a lot less. I was fine with doing it. It had everything we needed. OK so the ceilings were a tad low, and the elevator was frighteningly small, and the parking situation could have gotten sticky for me, but it was cheap, and I was really gearing up to be frugal and save money. Dave had shown me the apt. by video online, and i said go for it. But when we got here he hadn't made a final decision with a house. He took us to see the apt., and we were all fine with it, but I could tell that Dave wasn't real excited about it. So, I said, lets just go first and see if there is an apt. that is newer to compare. There really hadn't been many to chose from. So we get in the car and the first place he takes me is not to an apt. bldg. but this neighborhood that we now currently live in. I think he really liked it, but didn't want to admit that it was him wanting to spend more. We drove in and the very last house that was surrounded by woods was empty. I said, "Stop the car, and let me out. This is my house." I found a door open in back (the laundry room) and gave myself a private tour. I was in love. You know when you jump up and down and giggle and feel all excited and happy inside. I feel that way when I am in TJMAX sometimes too. smile. It was all over. Why did he have to do that to me. I have pondered ever since the rightness or the wrongness of the decision. Isn't is always right to spend less and save more? We thought, hey, we can spend less, and travel more. But then, as we discussed it, we decided that our home is where we will be 90% of the time. I told Dave that I could make any house cute, cozy, and homey. When it came down to it though. He just didn't want to come home to that house. He wanted to come home every day to this one. Me too, me too. Is that right or wrong? I can't even decide if I feel bad or guilty about it. If I am thinking that I should feel bad or guilty about it. Thoughts?
Anyway, we love it. They were just finishing building the rest of the homes in this small development, and six were available. This may have been the spec home. It is by far the best one in the neighborhood in my unbiased opinion. Our neighbor next door and across the street one down are Korean. It seems like the rest are filling up with Americans that are teachers on base. We so far have the Spanish, Science, and Art teacher that we know of. ha ha. There isn't anyone in the house directly across from us yet.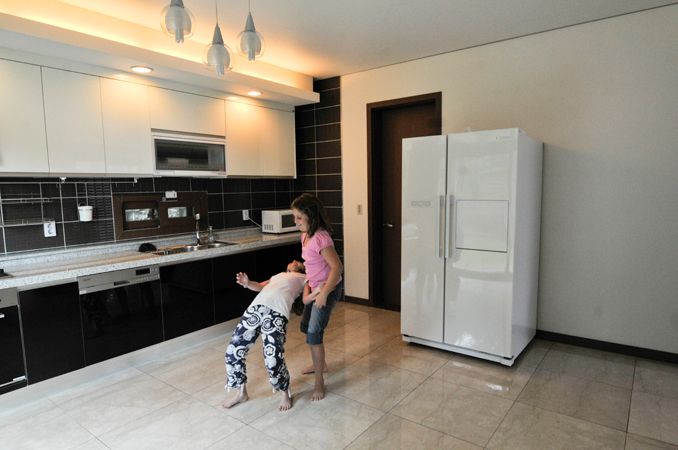 That door next to the fridge goes to the laundry room. It was no small feat to get in an american washer and dryer.
The views from almost every window make me very happy. sigh. This is from the kitchen.I am glad that I took this picture because four days later there was a typhoon, and a lot of those trees are gone now. We had a tree fall down on the house on the other side. We have had some electrical issues since then, but no big deal. The workmen are still here every day because they are still working on houses, so I see them every day for one thing or the other. They are all so nice and helpful. The Korean people are so open, friendly, and just wonderful people. I really love their culture. More on that later too.
This is the living room downstairs. Like our big back splash. ha. That is the air conditioner in the right hand corner and on the floor in the left is the dehumidifier. Seriously, I think we would have our year supply of water if we kept all the water we have taken out of the air in the past two weeks. Amazing.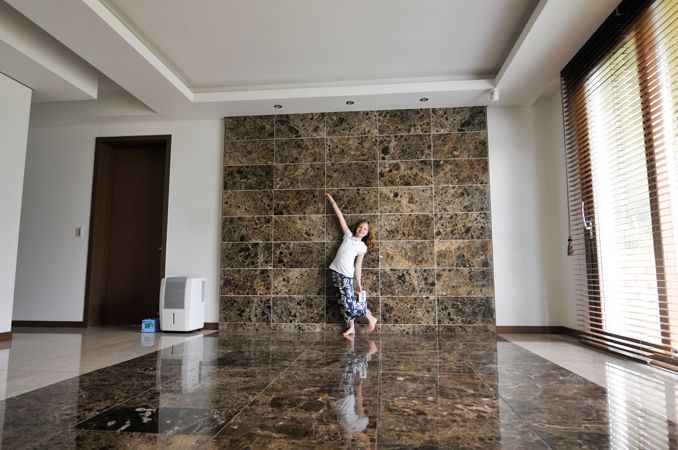 the door on the left there is to our bedroom.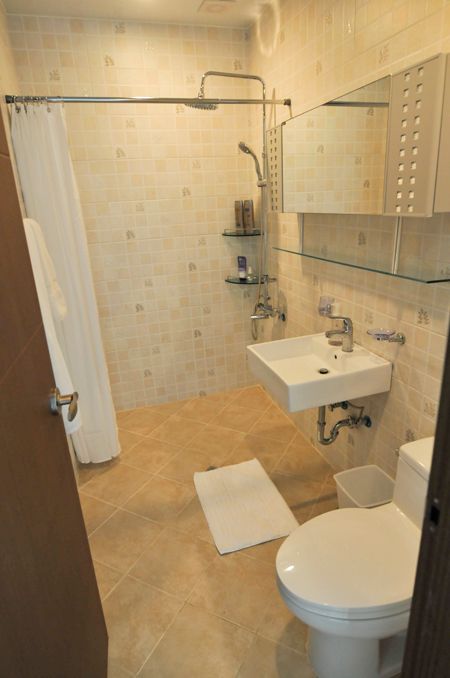 Around the corner and to the left is this bathroom downstairs. This is the only house that Dave saw that had not only a bathroom, but full bath for guests downstairs.
Up the stairs we go. I love the view of the trees through that little window. Again, I didn't realize how green deprived I have become. I really would be ok if I never saw a rock backyard again.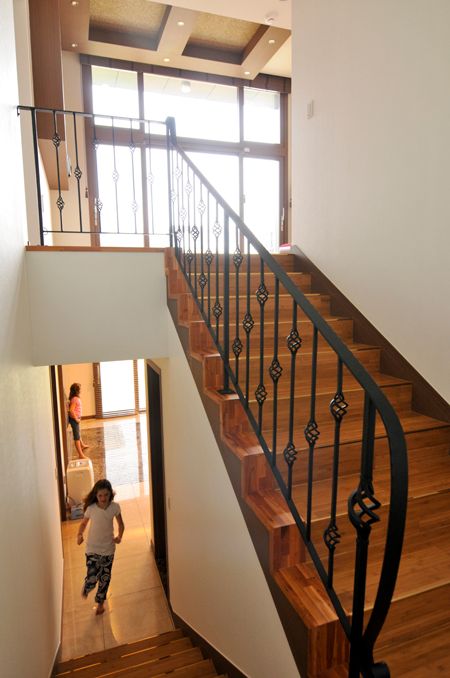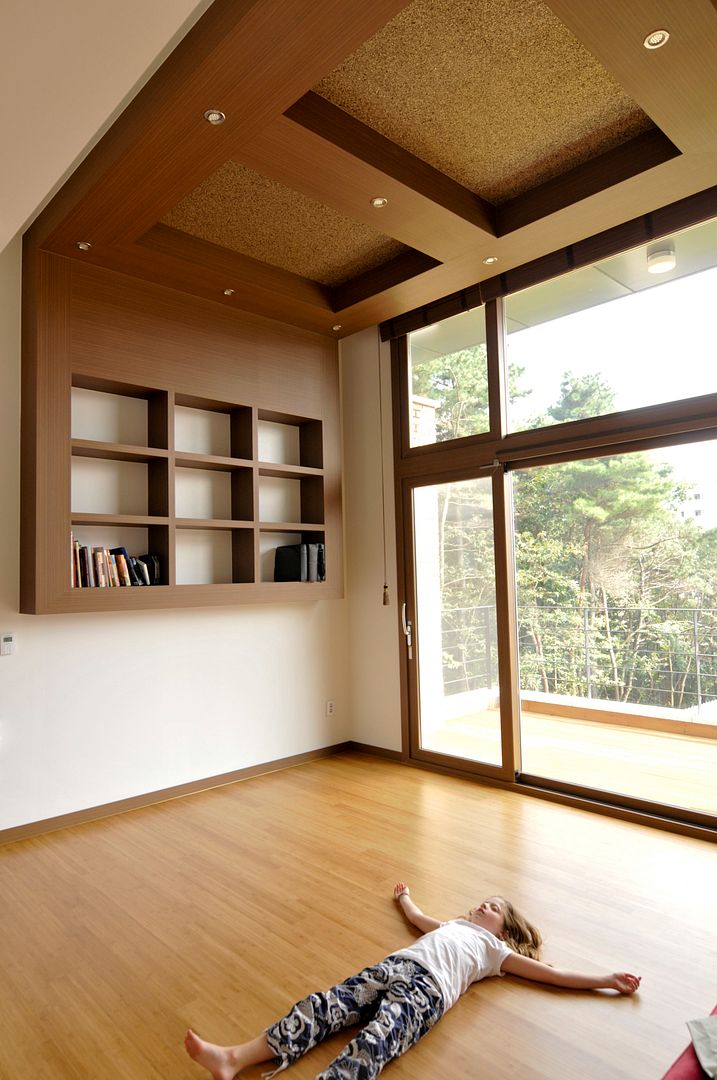 I love the architecture of this room. Again, very unusual to have a separate living area upstairs. the balcony is really cool too. It wraps around the upstairs.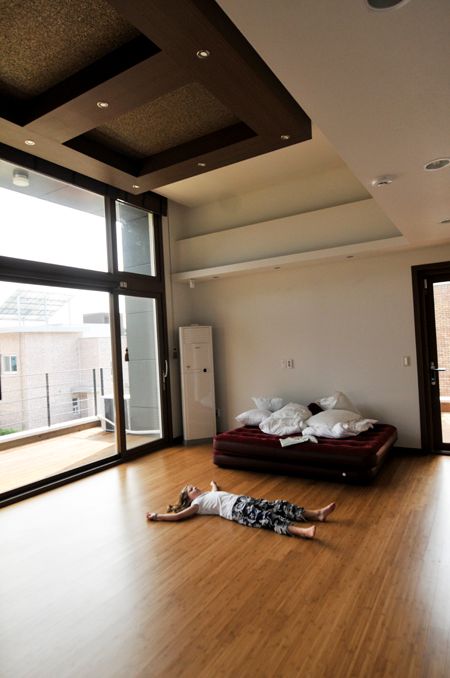 and yes, Lizzie is still alive and with us. What a nut.
Here is Lizzie and Leah's room, it is above the kitchen, so it has that same view of the woods behind the house. love it. and they have a balcony off their room. We got bunk beds and a small dresser from the lovely gmarket again.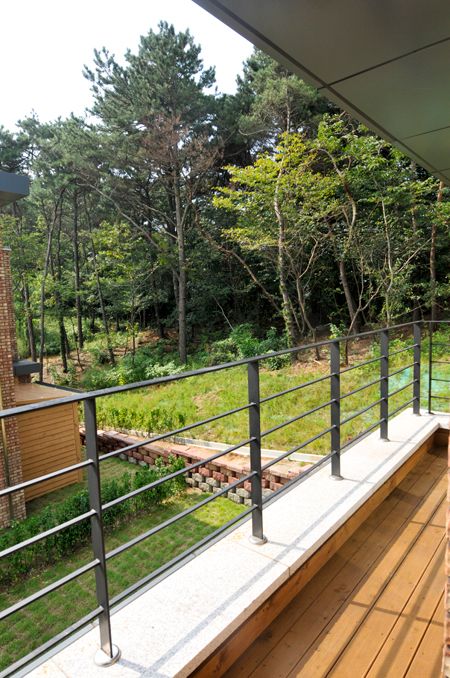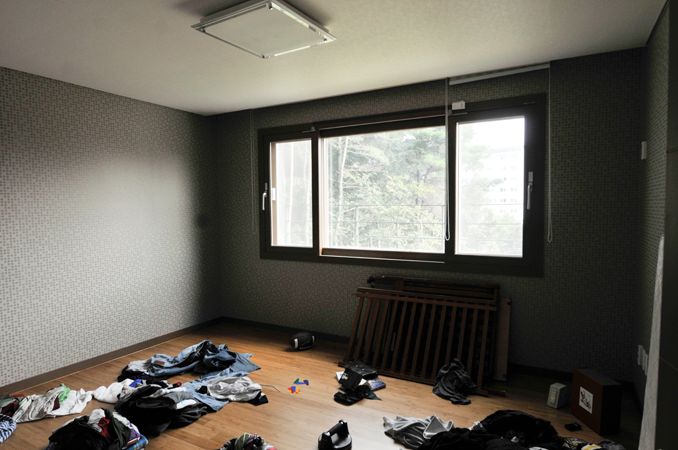 A mess. We got that crib at the thrift store for $5. We were pretty excited about that. This is actually Rachel and Rebecca's room now. You can't really see how cool the wallpaper is. Grey blue circles. I like it. That is the thing here in Korea. Everything is wallpapered. No paint. Even the white in the other rooms is wall paper. In fact, it has a little bit of sparkle to it that you can't see. Subtle, so it isn't tacky, very retro. I didn't take a picture of the other room upstairs or the bathroom. It is like the one downstairs, but has a window. Do you like how there is just a drain in the middle of the bathroom. Quite convenient for cleaning actually. I like it.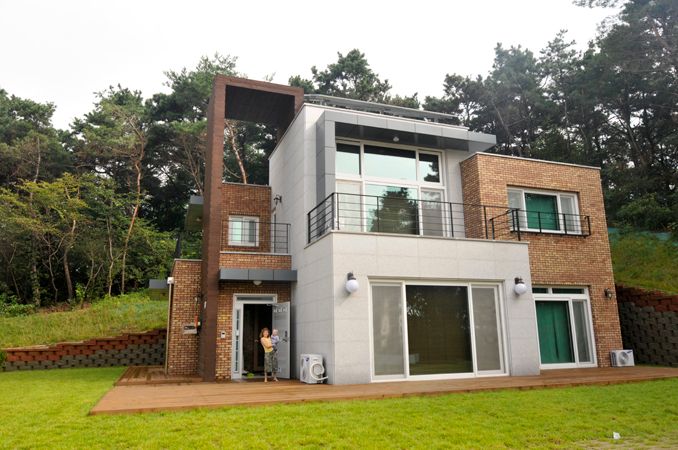 So that is the empty home tour. We are ready for visitors. I know you all just wanted to go to Europe, but Korea is really cool. I knew I would like it, I just didn't realize how much. I actually like it better than Japan in a lot of ways. And Melanie, it isn't stinky everywhere like you said. ha ha. I actually like Kim-chi. There are all different kinds. Some I like, some I don't. But again, more on that later.
We have to decide by October 1st if we are going to stay two years instead of one. The vote is already in. Everyone wants to stay two. I can't wait to tell you all the reasons why.
Goodnight, or rather.......annyeonghi jumuseyo (phonetically speaking that is. smile.)
PS- sorry if this doesn't make sense. It is 1 a.m. and I am too tired to even read through it.