This is one of my favorite pictures ever of
lizzie
.
Such an expression of perfect contentment.
It is the expression that we are all wearing right now.
While our summer was absolutely amazing and wonderful..
let's face it, we were starting to be really irritable from
lack of sleep, lack of schedule, suitcase living, junk food eating,
and just a little too much time together (smile).
Everyone is back to their perfect happy
selves
, and i like them
all again! (Phew, I was really starting to worry....really).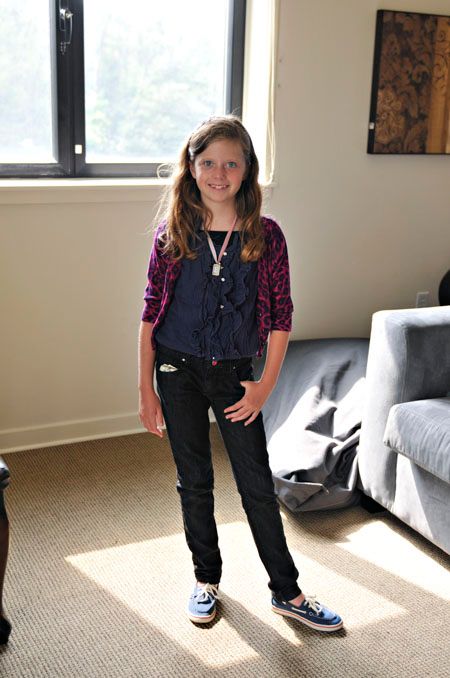 So Monday was the first day of school. Everyone was so excited,
and looked so cute. We shopped well this summer.
Our favorite place for the girls was "Plato's closet" in Reno.
Oh my mom! If you are ever in the Reno area, your gambling
money would be way better spent there. It is second hand store (gently used)
for teenage cool clothes (and for us hip mom's too. smile)
We were there for hours, and multiple times. They opened up another
store right next to it with high end stuff for older women (think
ann
taylor
).
But
Ammon
was having nothing to do with it at that point. dang.
Lizzie's outfit above is from "Forever 21" they have a kid
section in the Sandy, Utah mall and it is a must hit for
school shopping. Lizzie really scored there.
Rebecca
, Leah and Rachel (and me) got really cute hair cuts
ala
Aunt Coco. Isn't
Rebecca
cute with her bangs? Nicole layered it,
and now it is so curly. Especially here with the humidity.
Leah is at the middle school with
Rebecca
this year (6
th
and 8
th
grade).
Leah is so excited to have a locker and switch class rooms, and to just
be older, and one of the big kids.
She told us this morning that all the 6
th
grade boys think
Rebecca
is Hot.
I told her, "good thing you look just like her!"
Rebecca
has been so sweet with Leah helping her around school,
and picking out cute outfits for her to wear every day.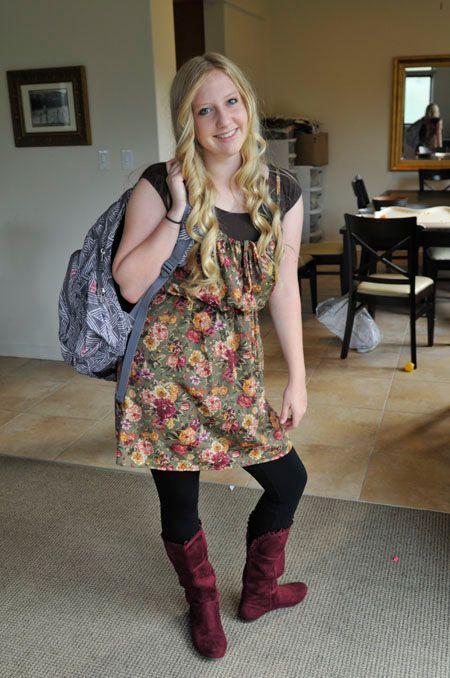 Doesn't Rachel look pretty?
She will be sweet 16 in just a couple of months!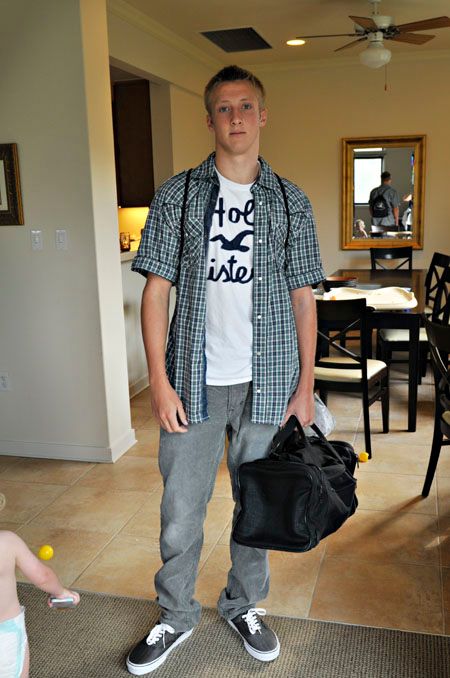 Joe cool senior.
All of us girls had fun dressing
jacob
.
Every day we pick him out outfits
Jacob does not lack for feminine attention.
(at home or at school).
How fun to be a senior, and at the top of your game.
How fun to be in a small, close knit school where
you know and like everyone.
I am happy for him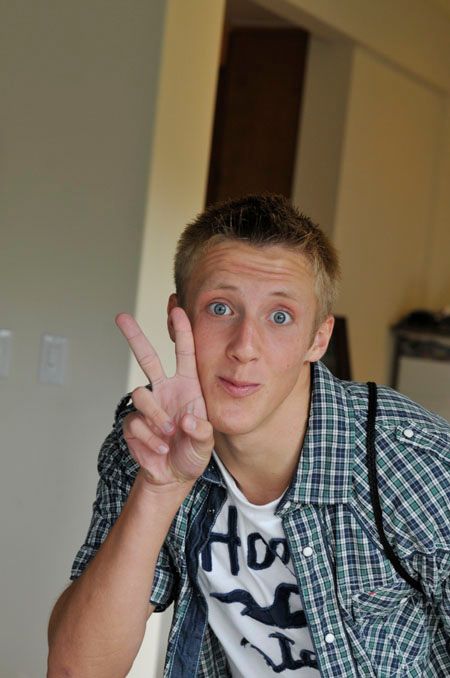 Joe cool is actually a big goof ball.
My favorite, was the first day of school after they came home (
lizzie's
pictures above
are from after she got home because i forgot to take a pictures before. duh)
I took their picture, and then video taped them talking about the first day of school.
They all came home so happy and excited and full of stories.
I think that is a tradition i will continue.
I am just so happy to be back to my little simple house. I love to clean it and keep every-
thing running smoothly. I am happy to report that I have not missed a night yet of making a delicious dinner. I have done it happily, and it really makes everyone else happy too. I even grilled on the BBQ for the first time by myself. Yes, I almost burned off all my hair, but i did it. I made the yummiest steak tacos, with a grilled corn, avocado, red onion, lime juice etc. topping. It was a proud moment.
I am going to bed early, and getting up first thing and reading my scriptures. Breakfast at
7:15am, family prayer at 7:30am.
You must realize routine is very difficult for me. How long can I keep this up before life overtakes me. I must keep it simple, keep the routine (that is my mantra), oh and
be gentle with myself, and treat everyone like i treat
ammon
. smile. he is so easy to love.
Speaking of
ammon
, i forgot how angelic he is when he is home and getting enough sleep.
Really, i can't believe how well he did on the trip, but by the end he had had it.
Yesterday, he was so sweet and delightful. My joy was full.
My day yesterday? Morning routine with kids,
Ammon
eating breakfast in his high chair as
I got dressed and finished up my to do list for the day and emails etc. house all in order, bed made. Laundry moving, dishwasher humming. We leave the house at 11am to take forgotten lunch money to
lizzie
, and sit with her at lunch. Enjoy, how joyful all the 5
th
graders are. How innocent still and happy. Then to the thrift store to drop off a couple of bags, and peruse. What joy to find that they are giving away 10 free books per person, and
ammon
quietly reads a book i give him in his stroller while i enjoy searching for the perfect 10 books. I really found the perfect smattering of marriage, financial, novels,
Korean
non fiction, and a little something for everyone. While in the thrift store, I receive a call from the
commissary
(grocery store) that I have won $50 in the drawing that I entered last week. It's like the best day ever. smile. So after doing a few more errands around my little small base, I come home for a yummy lunch with
ammon
and put him down for a nap, read a little, and visit with Lizzie after school. Then I am off to get a new rations card with Dave, post office, and then to the commissary to receive my prize and do my grocery shopping. After that I stop by the high school football field, and watch
jacob's
football practice for a while. Then home to make dinner, and visit with the rest of the kids. We have pulled pork sandwiches on the yummiest rolls, a homemade macaroni salad, and grapes. We all talk as a family and hang out the rest of the night. I love how my kids are so social and want to tell me every detail. Jacob most of all, ha. Then family scripture, prayer,
ammon
to bed, homework, shower and reading "founding mothers" for book club on
Thursday
night. Lights out and in bed by 10:30pm.
That my friends, is my perfect day.
I love when school first starts, and spirits are high.
Discouragement, and frustration hasn't set in yet.
When hopes are high for the year, and anticipation is great.
Everything is still new and exciting.
Even a freshly sharpened pencil brings a smile.
A fresh start.
There is nothing like it.
This Saturday we go to the temple. The perfect end to the perfect first week.
Today looks like another great day. I just am now hearing
Ammon's
happy ramblings at 930am. You know his "
ballyball
" etc. (his is a world in which balls are the only thing he sees. ha)
I was able to blog this morning. Now if i can just exercise!
Here's to another day filled with the
exhilaration
that
comes when you cross off things on your to do list.
(i just love that feeling).
P.S. The hardest part of coming home is now I miss you all more. Thank you again
to all of my dear friends and family who made this such a memorable summer.
and yes, pictures will be following shortly. It's on the to do list! smile.